After guest speaker Blake Fly of Toronto, Ont., concluded his presentation to assembled students from Unity Composite High, McLurg High, Luseland and Macklin schools, Feb. 4, a panel discussion on bullying, harassment and the use of social media in the workplace took place.
(For more information on Fly's presentation, see the February 10th issue of the Unity-Wilkie Press-Herald or http://unitystories.com/judger-or-nudger/)
Panel members were local lawyer Ken Neil; human resources personnel for both the Unity Credit Union, Alan Zimmer, and Living Sky School Division, Brenda Vickers; Lana Mabbett from Heartland Health; local business owner Mike Wismer; RCMP Cst. Eric Macdonald; and Living Sky's superintendent of schools, curriculum and instruction, Brian Quinn.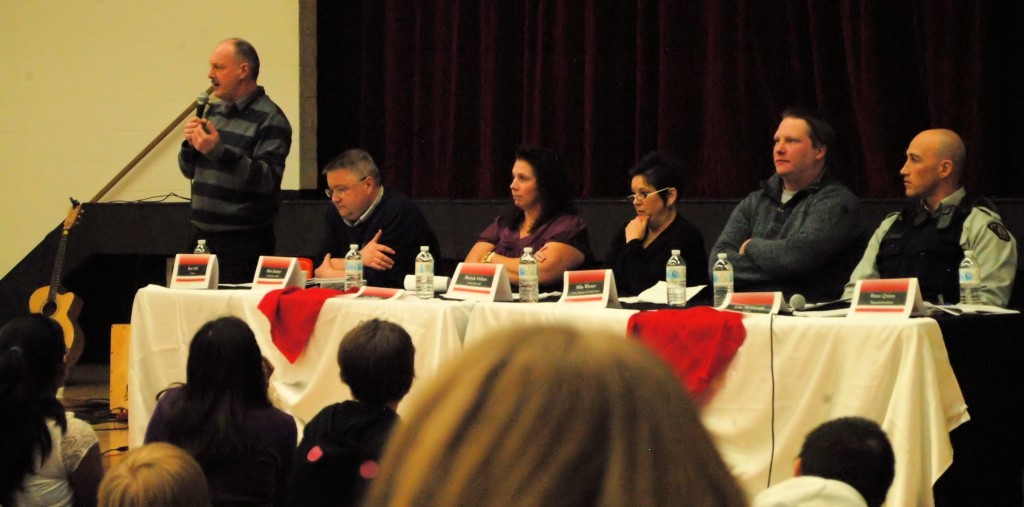 UCHS student Zoher Rafid-Hamed posed questions to different panel members in turn. Responses and comments made by panel members included the following.
Quinn talked about a specific incident in a Living Sky school where an inappropriate comment was made to a student and other students immediately stepped in to tell the offending student it was inappropriate. "No tool is as powerful as peers stepping in," he said, telling the students that, more and more, "who" you are is more important than the talents or skills you have.
Zimmer reinforced that statement when he explained that, even before someone is hired at the credit union, they try to weed out people who will not fit in. For example, a potential new employee will be asked specific questions about how he or she deals with conflict.
Vickers echoed Zimmer's comments about the hiring process. She added that, at the school division, reference checking is done not only to confirm skills and abilities but also to ask questions about relationships and how a person solves problems.
In any organization, Zimmer said, "you have a responsibility to everyone in that organization."
He was referring to workplace bullying and harassment at the time, but that responsibility holds true to the use of social media as well – no matter whether an employee is at work or at home.
Vickers said, even when at home, if you are talking about someone from work online, the employer can take action. Mabbett added, even when you are off duty, you still represent the place you work.
Mabbett cautioned students to establish a positive digital footprint or they may even find themselves not being able to be licensed in the field for which they studied. She gave the example of seeing a photo of a surgeon drunk at a Saturday night party – would she want that doctor operating on her Monday morning?
A video of the panel's entire presentation is available online at http://streaming.lskysd.ca/, under the heading Social Media and Respectful Relationships.