Although she doubts the person responsible will come forward, horse owner Tamilyn Barr nevertheless would "really like to know what happened, and why."
Going out to feed her horses at noon Monday, November 18, Barr knew something was wrong when her favourite horse wasn't waiting at his usual spot to be fed. Walking out to the field, she found him 50 yards away, lying dead in a pool of frozen blood. Boone, her young Norwegian Fjord had been shot.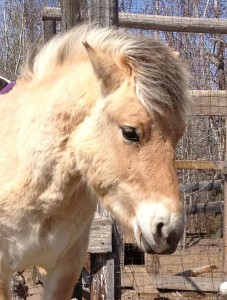 Barr lives four miles northwest of Unity and she knows her horse was alive and well when he and her other two horses were fed the previous day. Putting that together with reports from neighbours, she believes Boone had to have been shot sometime between noon and 3 p.m. Sunday, November 17.
Was Boone shot deliberately or did someone mistake him for a deer? He was killed during daylight hours, on a clear and sunny day, and within 100 yards of Barr's farmhouse.
Anyone with any information is encouraged to contact the Unity RCMP detachment at 306) 228-6300 or Crime Stoppers at 1-800-222-TIPS(8477). Barr knows nothing can bring her Boone back but she would like to know how and why this happened.