Blake Fly came from Toronto, Ontario, to Unity, Saskatchewan, to motivate, inspire, challenge and encourage.
Fly, author, speaker and music maker, spoke to Grade 7 to 10 students from Unity Composite High, McLurg High, Luseland and Macklin schools, at Unity Comp, Feb. 4. He had students clapping, hissing to imitate a snare drum, making suggestions, cheering and listening intently during his presentation on how to make going to high school a better experience.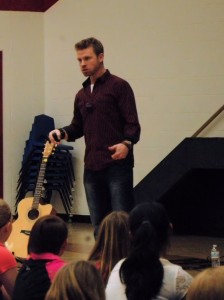 Fly used his own high school experiences to illustrate his lessons.
One lesson was to focus on quality of friends, not quantity. Having at least one really good friend is especially important today. "There is no separation between life at school and life outside of school because your online life trumps both."
Fly talked about surrounding yourself with nudgers as much as possible. Nudgers are people who encourage you to move towards your dreams and goals; judgers stomp on your dreams. Hanging out with judgers "makes for stress and drama and stuff you don't need."
Surrounding yourself with nudgers, on the other hand, makes you feel good and can help you achieve your goals. Peer pressure can be amazing "as long as you are pressuring amazing things," Fly said.
He encouraged the students to become nudgers. "If you want to make your life in school about getting attention and hurting people in the process, okay, I can't stop you. But … you can still get attention but make people feel amazing in the process. And with technology, when you add that into the mix, that is like just this massive machine to make people feel special if you choose to use it that way."
Fly asked the students if there was something they loved to do outside of school that could contribute to school. Change and improvement doesn't have to be all at once.
"When you want to start something, it's not so much about like changing the world and getting everybody on board. Rather it's about getting somebody's attention in some small way, even if it's totally random, and then doing something with those people – moving them towards something that might improve their own school experience, their own social life, their own outlook on this thing called life."
When you start to share your passions, "people start to pay attention and then they connect you to opportunities so you can do more of it and maybe actually get some credit for it."
Fly gave students a specific example of how to be a nudger, how to get attention for making people feel good rather than bad – by converting prank phone calls into thank phone calls.
"Pranks are awesome, some people think, but they often come back to haunt you and they hurt someone in the process," he said. Making a "thank" phone call, on the other hand, still lets the caller be excited about surprising someone, but by making someone else feel good instead of bad.
After the students voted on who he should call, Fly demonstrated a thank phone call, calling his girlfriend Amanda on speaker phone. The call went to voicemail and he left a message thanking her for being his girlfriend and letting her know how much he appreciated and loved her.
"You can get attention by making people feel amazing, not just by putting people down," he concluded. Even something as simple as a second of eye contact in the hallways, instead of always looking at your feet or your phone, can help someone feel validated and recognized – "so they know you know they exist."
The video of Blake Fly's presentation is online at http://streaming.lskysd.ca/ (copy and paste link into your browser bar).