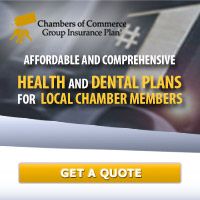 Members of the Unity and District Chamber of Commerce qualify for group health insurance plans, specially designed for small to medium businesses. Even if you only have one employee, you can offer benefits and access group life, health, dental and disability insurance. Other benefits of Unity Chamber membership include continuing education opportunities, discounts on promotions and marketing opportunities and networking and brainstorming opportunities.
Group Health Insurance Plans for Chamber Members
Access to Canada's largest plan targeted to small-to-medium business.
Introduced over 35 years ago, Chambers Plan now provides coverage to over 29,000 firms like yours. Regardless of the size of your organization Chambers Plan can be customized to meet your needs, request a quote today.
Established
Chambers Plan Group Health Insurance has operated continuously for over thirty five years. Your firm's rates will remain stable regardless of claims history. Your business is unique so your business needs unique coverage. That is why a localChambers Plan Advisor administers your employee health benefits plan.
A Chambers Plan Advisor is a member of your community. Whether you want to add dental coverage, change or update, or simply ask a question your Advisor is there for you.
Comprehensive
Chambers Plan offers traditional coverage such as life, health, dental and disability, critical illness and so much more. The Best Doctors® program helps members get a second opinion and advice from some of the world's leading medical experts in a wide range of medical fields.
Visit their website today at www.chamberplan.ca to find out why Chambers Plan is Canada's #1 group health insurance plan for small firms.
 Projects of the Unity and District Chamber of Commerce
OpportUNITY … it's waiting for you.
With this great slogan, a partnership began between the Unity and District Chamber of Commerce and the Town of Unity, Saskatchewan, Canada.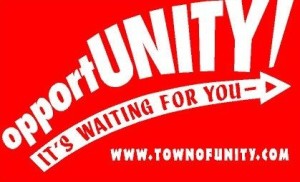 Billboards
Radio ads
A video blog
Newspaper ads
Online advertising
Appearances at trade shows
They all worked together to raise the profile of Unity throughout the province. In 2011, the campaign resulted in former Rider Scott Schultz coming to our community for his video blog, Global TV showcasing our town on provincial television and an award from the Saskatchewan Economic Development Association.
There is still opportUNITY in Unity as witnessed by the Chamber officially welcoming
new businesses to the business community on a regular basis. New businesses receive their first year's membership to the Unity and District Chamber of Commerce free of charge and are featured in a newspaper writeup.
New businesses and existing businesses in growth mode need employees. There is plenty of job opportUNITY in Unity, and the Chamber also welcomes new residents with a "welcome wagon" type bag. Newcomers feel appreciated at the same time as local businesses are promoted by information and/or samples being included in the gift bags.
Business and commUNITY — celebrating together
The Unity Chamber of Commerce further recognizes the opportUNITY each year at its Celebrate Unity event which acknowledges new businesses, celebrates business milestone anniversaries, recognizes commUNITY initiatives such as hosting of provincial sporting events, introduces new owners and managers to the community and congratulates individuals who have provided exemplary business or public service. The celebratory evening includes a catered supper and unique entertainment each year, such as the a capella singing group Hoja in 2013.
Chamber initiatives on behalf of business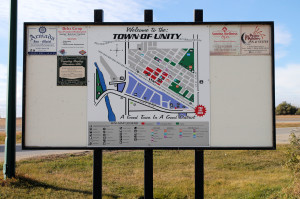 Chamber members are featured in a free booklet and can advertise on the Chamber's billboard at the Delta Co-op C-store.
The Chamber makes presentations to town council on behalf of businesses and there are indications they are being heard. One topic raised with the town several times was businesses taxes when assessments went up. The Chamber has also lobbied for more public town-hall-style meetings.
The Chamber of Commerce has brought in speakers and trainers to help businesses and their employees be the best they can be.
In association with the Saskatchewan Chamber of Commerce, the Unity Chamber and member businesses have access to cost-effective life and disability insurance for owners and employees.
Chamber initiatives on behalf of the community
The Unity Chamber of Commerce and member businesses sponsor a free movie, treat bags and a visit with Santa each year for the town and area children.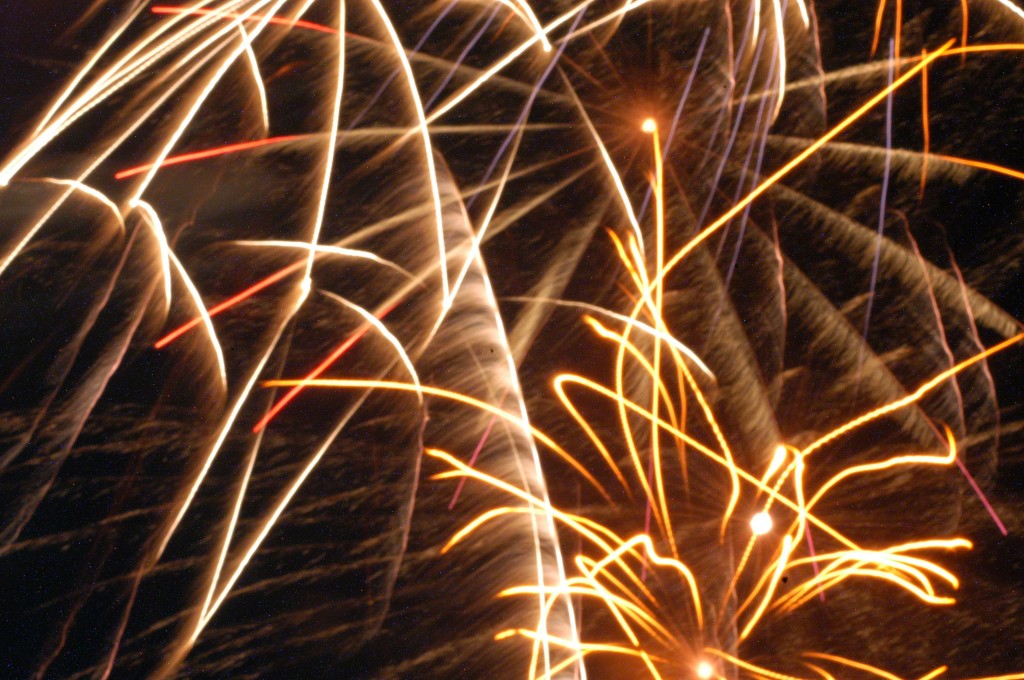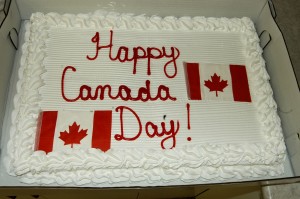 The Chamber partners with the Unity and District Heritage Museum each year, hosting Canada Day celebrations. The day's events include games for children, horse wagon and old apple truck rides, entertainment, cake and fireworks. Other organizations run fundraising pancake breakfasts, lunchtime barbecues and community suppers in conjunction with the Chamber's and Museum's events.
Benefitting both business and the community
Along with the town, the Chamber has lobbied the provincial government for improvements to Highway 21. The Saskatchewan Ministry of Highways and Infrastructure has now hired a consultant to prepare a report on the long-term location of this highway around or through the Town of Unity.