OpportUNITY … it's waiting for you.
With this great slogan, a partnership began between the Unity and District Chamber of Commerce and the Town of Unity.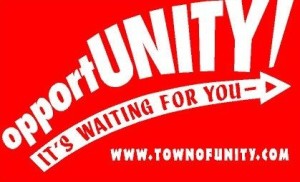 Billboards
Radio ads
A video blog
Newspaper ads
Online advertising
Appearances at trade shows
They all worked together to raise the profile of Unity throughout the province. In 2011, the campaign resulted in former Rider Scott Schultz coming to our community for his video blog, Global TV showcasing our town on provincial television and an award from the Saskatchewan Economic Development Association.
There is still opportUNITY in Unity as witnessed by the Chamber officially welcoming new businesses to the business community on a regular basis. New businesses receive their first year's membership to the Unity and District Chamber of Commerce free of charge and are featured in a newspaper writeup.
New businesses and existing businesses in growth mode need employees. There is plenty of job opportUNITY in Unity, and the Chamber also welcomes new residents with a "welcome wagon" type bag. Newcomers feel appreciated at the same time as local businesses are promoted by information and/or samples being included in the gift bags.
Business and commUNITY — celebrating together
The Unity Chamber of Commerce further recognizes the opportUNITY each year at its Celebrate Unity event which acknowledges new businesses, celebrates business milestone anniversaries, recognizes commUNITY initiatives such as hosting of provincial sporting events, introduces new owners and managers to the community and congratulates individuals who have provided exemplary business or public service. The celebratory evening includes a catered supper and unique entertainment each year, such as the a capella singing group Hoja in 2013.
Stay tuned for details on Celebrate Unity 2014. And if you know of a business celebrating a special anniversary or of someone who provides business or community service "above and beyond," please let us know! (You can comment below or talk to any member of the executive.)
For more on what the Chamber does, including sponsoring and organizing Santa Day, lobbying local and provincial government, promoting member businesses, life and disability insurance, training opportunities, Canada Day activities and the Western Days downtown barbecue, see http://unitystories.com/chamber-of-commerce/. For Chamber contact information, visit http://unitystories.com/chamber-of-commerce/contact-the-chamber/.