Celebrate Unity is an annual event proudly hosted by the Unity and District Chamber of Commerce and its member businesses. As well as recognizing milestone anniversaries (25 years and up) of local businesses and introducing new businesses to the community, the Chamber acknowledges the efforts of volunteer committees who host big events in town and bestows Exemplary Service awards on nominated outstanding volunteers who have made significant contributions to the quality of life in Unity and district.
The 2017 Exemplary Service award recipients were Sherri Solomko, Grant Huber and Twila Zunti.
Sherri Solomko
Sherri Solomko doesn't just like to talk or tell stories about how great a community to live in Unity is. She puts her money where her mouth is and works hard to keep Unity a great community.
Not long ago, "Blast from the Past" reminded Press-Herald readers about Sherri winning a Kinnette's Founder's Award 20 years ago. The award was given for her participation in local, zone, district and national projects and event. She twice served as Unity Kinnette President and, even after the demise of the club, has continued and is continuing to volunteer for both Secret Santa locally and for the provincial Telemiracle event. Along with the Founder's Award, in 1993-94 she was given an Outstanding President's Award and in 2001 she was recognized as Outstanding Telemiracle Representative.
The end of the Unity Kinnette Club did not spell the end of Sherri's community involvement and volunteer work. She has served on numerous committees hosting big events in Unity, including the CTV Hometown Tour, Riderville and the Western Canadian Midget "B" Softball Championships in 2010, the Rider Pride Hockey Challenge in 2011, the 2014 World Junior "A" Hockey Challenge in 2014, the Montreal Canadiens Alumni Game, the Women's Junior "B" Provincial Softball Championships in 2015 and the Women's Junior "B" Western Canadian Softball Championships in 2016.
Sherri was also a member of the committee hosting the first Bantam All-Star Girls' and Boys' Provincial Softball Zone Championships; this committee was given an award from Softball Saskatchewan in recognition of their outstanding organization.
When she had a child at Unity Public School, Sherri served on the UPS Community Council and now is an active member of the Positive School Climate Committee at Unity Composite High School. It is during her time on the committee that the PSCC launched its Activate campaign, which continues to draw provincial attention.
Being a member of a family touched by cancer, Sherri takes part in Terry Fox Runs and Relay for Life and has done personal fundraising for these events.
From 2005 to 2013, each year she served as the manager for a Unity Panthers team.
She volunteered for the World Junior Austria versus Latvia game held in Unity a few years ago, and helps organize the junior curling for the Unity Curling Club. She also is the volunteer social media co-ordinator for the curling club. She is a volunteer at her church, including serving as a member of the board. She is on the staff club at the Delta Co-op and co-ordinates their volunteer time with Meals on Wheels.
Sherri is quick to recognize and acknowledge the contributions of others, not only writing stories for the paper but also taking the time to nominate people for awards such as this one and Unity's Citizen of the Year. Now it is her turn to be recognized, acknowledged and thanked for her exemplary service to her community. Thank you, Sherri.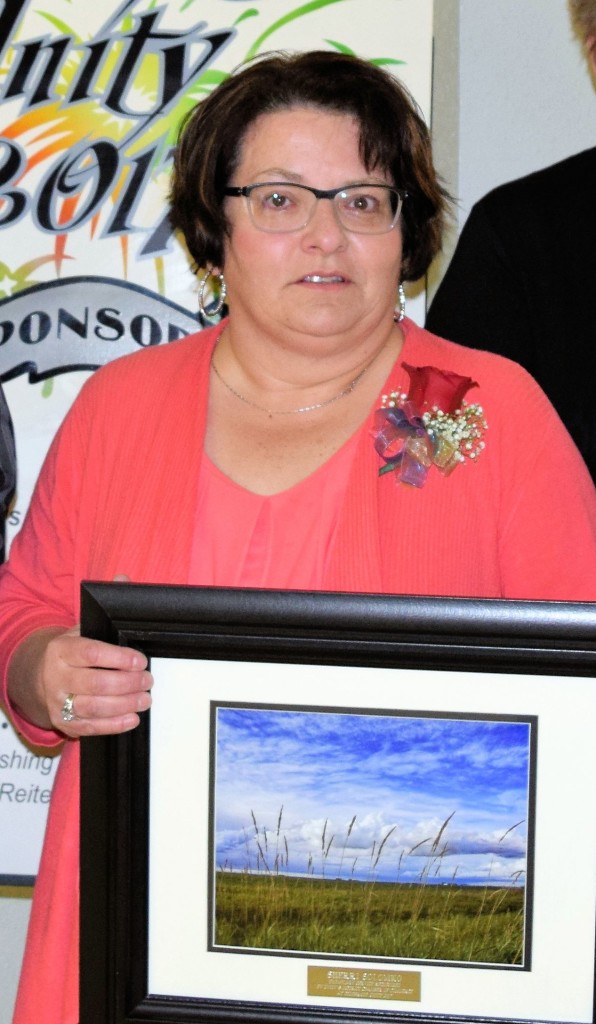 Grant Huber
Grant Huber has always been an avid curler and, since his return to Unity to set up Huber Machining and raise a family, he has worked endless hours for the Unity Curling Club.
He joined as a committee member in 1998 and took over the President's position from 2000 to 2004. After that, he continued to serve on the executive until 2016. During that time frame, he has organized and fundraised tirelessly for the new curling rink floor, starting up the Trip of the Month draws (now run by the Golf Course) and the annual Oilperson's Spiel (first one in 2001 and this past weekend was our 16th year). This bonspiel has been a great fundraiser for our club and still is.
When Grant started as President, the club was in the red. After many years of dedication, organization and hard work, our club is now viable and financially sound.
We have been able to renovate and improve our facility which has helped the club to grow, fill our leagues, increase sponsorships, host major events and plan for the future.
Grant was one of the main pushers behind the scenes, motivating and encouraging the executive and curlers to volunteer their time and energy to get jobs done.
On behalf of the Curling Club Executive and all of the club members, past and present, we would like to thank Grant for his years of dedicated service to the Unity Curling Club.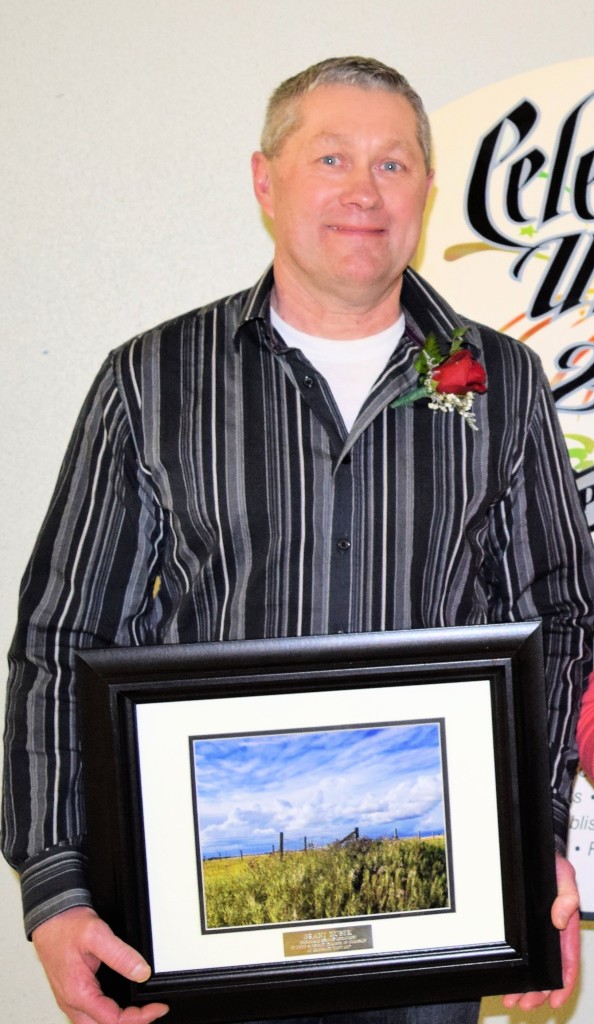 Twila Zunti
Twila Zunti, busy business owner, busy mother of two, active, competitive barrel racer.
Even while busy planning the upcoming Western Days as part of that committee – of which she has been a key member for a number of years now – she spent the week of May 3rd to 6th, 2016, opening up her trailer and promoting donations from the community to go to relief efforts in the Alberta Wildfires. She didn't just set up the trailer; she helped people unload their goods and load them in the trailer which she, herself, drove to the Edmonton relief centre the May 6th weekend.
This was the second time she didn't wait for a call to action; instead she encouraged others by issuing the call to action. This was the second time she took her time from her own busy schedule to not only collect items but to personally deliver them as she also took on this task during the Alberta floods several years ago. The trips were all out of her own pocket.
It's people like her that make us proud to be from Unity and Saskatchewan.