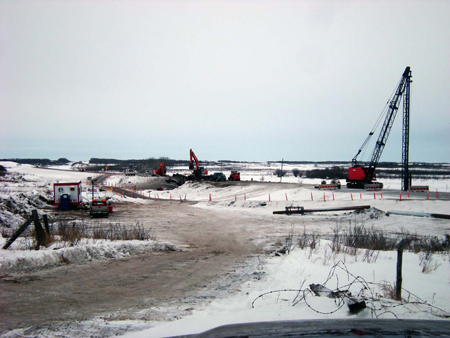 While highway construction is usually associated with the warm summer months, drivers should be aware certain types of work can take place year-round.
"We may be in the middle of winter, but crews are still out there working on bridges and installing culverts," Highways and Infrastructure Minister Don McMorris said.  "Remember that no matter the season, you must always slow to 60 km/hr when you see the black and white speed signs."
While cold temperatures present challenges, certain aspects of construction can benefit from wintry weather.  For example, cranes can be placed on frozen waterways and used to hoist beams into place during bridge construction.
Bridge projects currently underway include work on Highway 14 near Kinley, on Highway 10 south of Yorkton and on Highway 26 south of St. Walburg.  These are just a few examples of the work currently taking place, and motorists are reminded to keep an eye out for work zones when they travel.
To find general information about work zones in Saskatchewan, please visitwww.saskatchewan.ca/live/transportation/work-zones.
Travel information about construction, emergency road closures, the status of ferries and barges and other road activities is always available on the Highway Hotline atwww.saskatchewan.ca/live/transportation/highway-hotline.  It's also available by calling 306-787-7623 in Regina, 306-933-8333 in Saskatoon, the SaskTel cellular network at *ROAD, toll-free across Canada at 1-888-335-7623 and via the Highway Hotline mobile website athttp://hotline.gov.sk.ca/sk/map/mobile.