The Saskatchewan Honorary Consul for the Republic of France came to Parkview Place in Unity, Saskatchewan,  June 6 to present Second World War veteran Bill Fleming of Unity with the French Legion of Honour. The Legion of Honour ceremony was open to the public and many attended, including members of Fleming's family who travelled to Unity for the occasion.
The induction and award presentation ceremony opened with O Canada, sung by Natalie Keller and Iza Belle Lucenio, accompanied by Irene Thiessen-Campbell. Natalie and Iza Belle also sang La Marseillaise, the French national anthem. George Ward, Padre of the Unity branch of the Royal Canadian legion, was MC for the occasion, and also delivered a closing prayer. The Wards and Flemings were neighbours in Unity for eight years.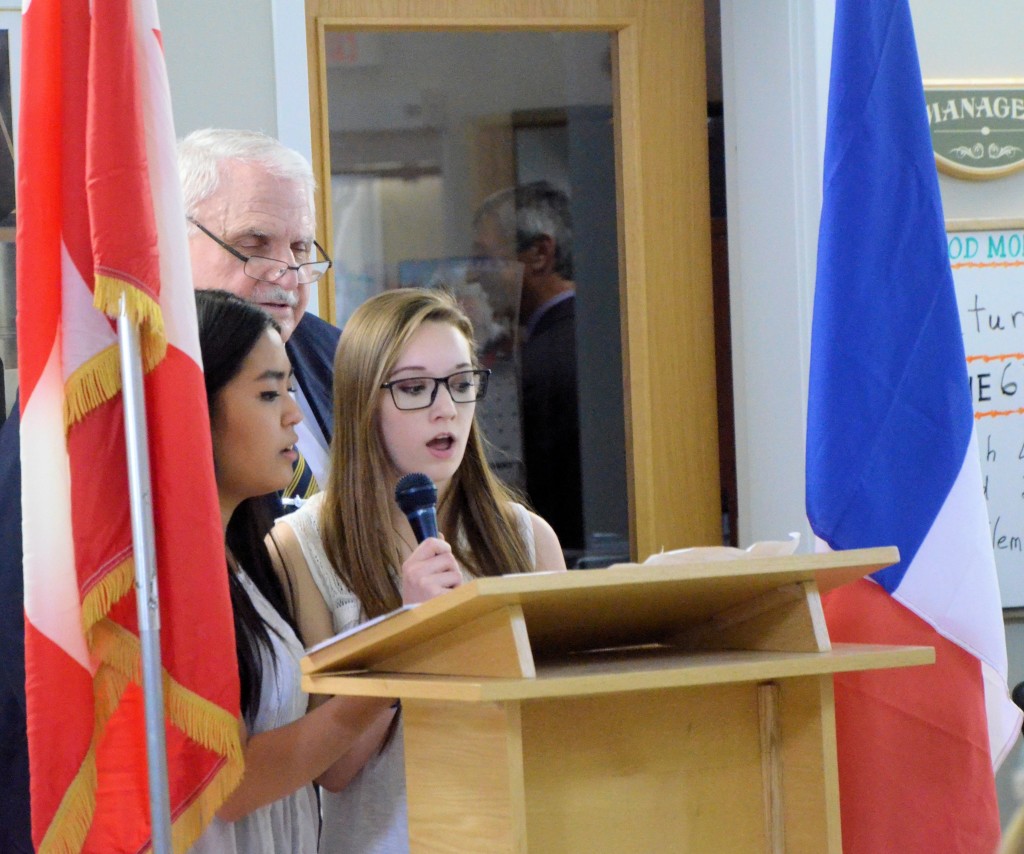 Honorary Consul Vincent Martin explained that, to celebrate last year's 70th anniversary of the D-Day landings, the French government "decided to present awards to all of the living Canadian veterans who participated in D-Day operations." And not just any award, but the Legion d'Honneur — the highest award possible for France to give, equivalent to Canada's Order of Canada.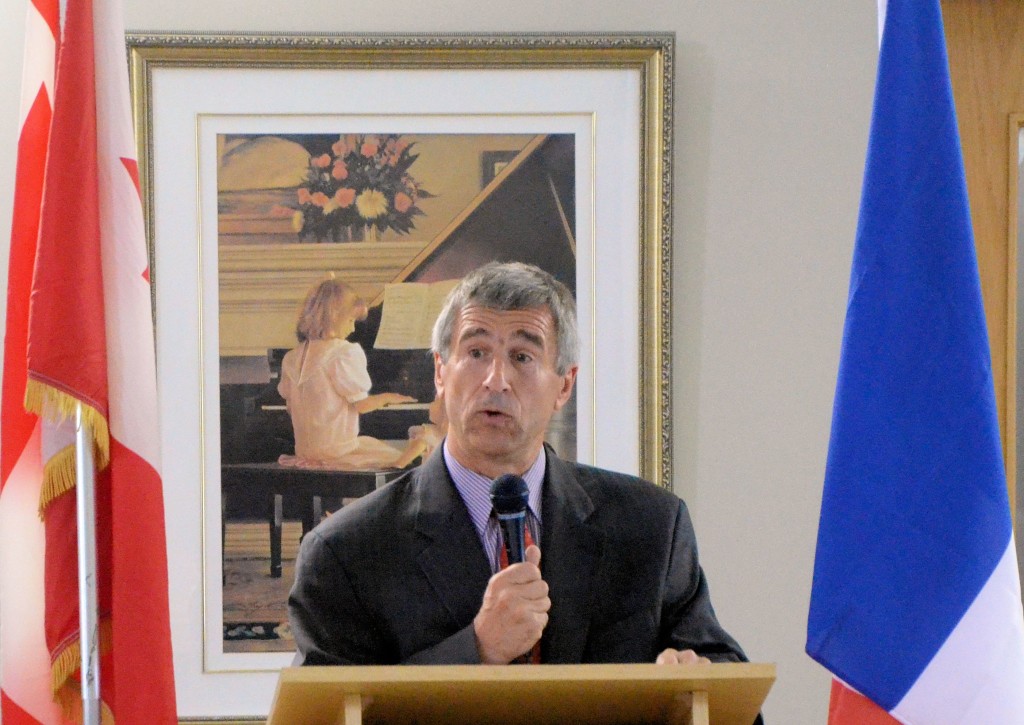 William George "Bill" Fleming landed on Juno Beach June 6, 1944 with Operation Overlord, the Allied invasion of Nazi-occupied France.
Addressing Fleming, Martin said, "As a young man, Mr. Fleming, you left your family and your home to cross the Atlantic and participate to one of the fiercest battles in modern history, on a foreign soil, far away from your country, to help the people of Europe to get free from terror and tyranny.
"Your accomplishments during the Second World War are a vibrant reminder of the profound and historic friendship that binds together France and Canada. Our two countries owe each other their very existence as free nations and this indeed creates a special relationship.
"The French people will never forget the act of bravery accomplished (by) Canadian soldiers … There is no winner in war, but sometimes fighting is necessary. and you personify the great Canadian spirit to defend freedom. Your story is a bright example for all generations."
Martin also said, "Freedom is more important than life. Many people made the ultimate sacrifice to allow others to remain free and unchained. This is the sacrifice that more than 45,000 Canadians made during the Second World War. The D-Day was this very first step that enabled liberty, justice and human dignity to break through.
"Canadian soldiers were on the front line, and it is with extraordinary bravery and sacrifice that they landed on Normandy beaches."
Martin concluded his speech by saying, "So thank you so much, Mr. Fleming, for fighting at our side for freedom and democracy. Thank you for making France a free country, and thank you for making my family a happy, living family.
"I congratulate you warmly, with my deepest respect! Thank you so much!"
Martin then pinned the Legion of Honour decoration onto the already heavily decorated Royal Canadian Legion uniform Fleming wore for the occasion.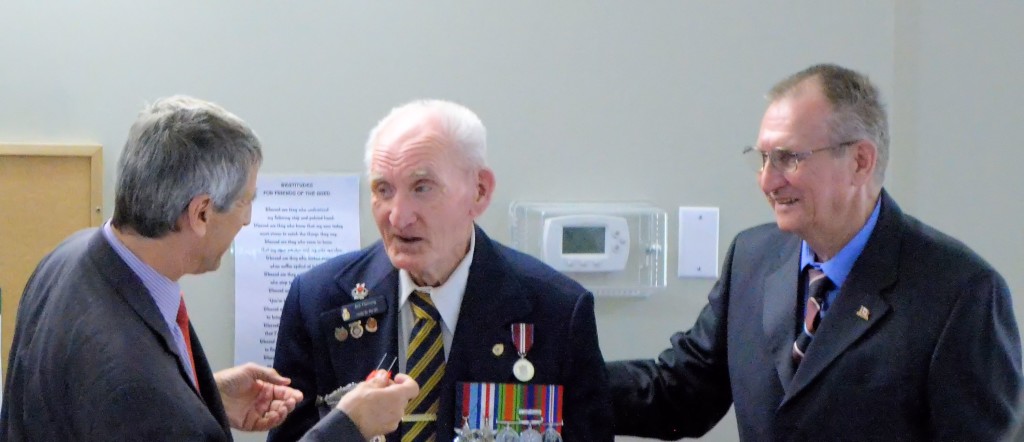 Fleming's son, Harold, who lives in Ontario, read the citation which outlined his father's accomplishments. Born in Plunkett, Nov. 30, 1916, Bill left home at age 12 to work as a farmhand. He and Nellie Davey were married shortly before the war.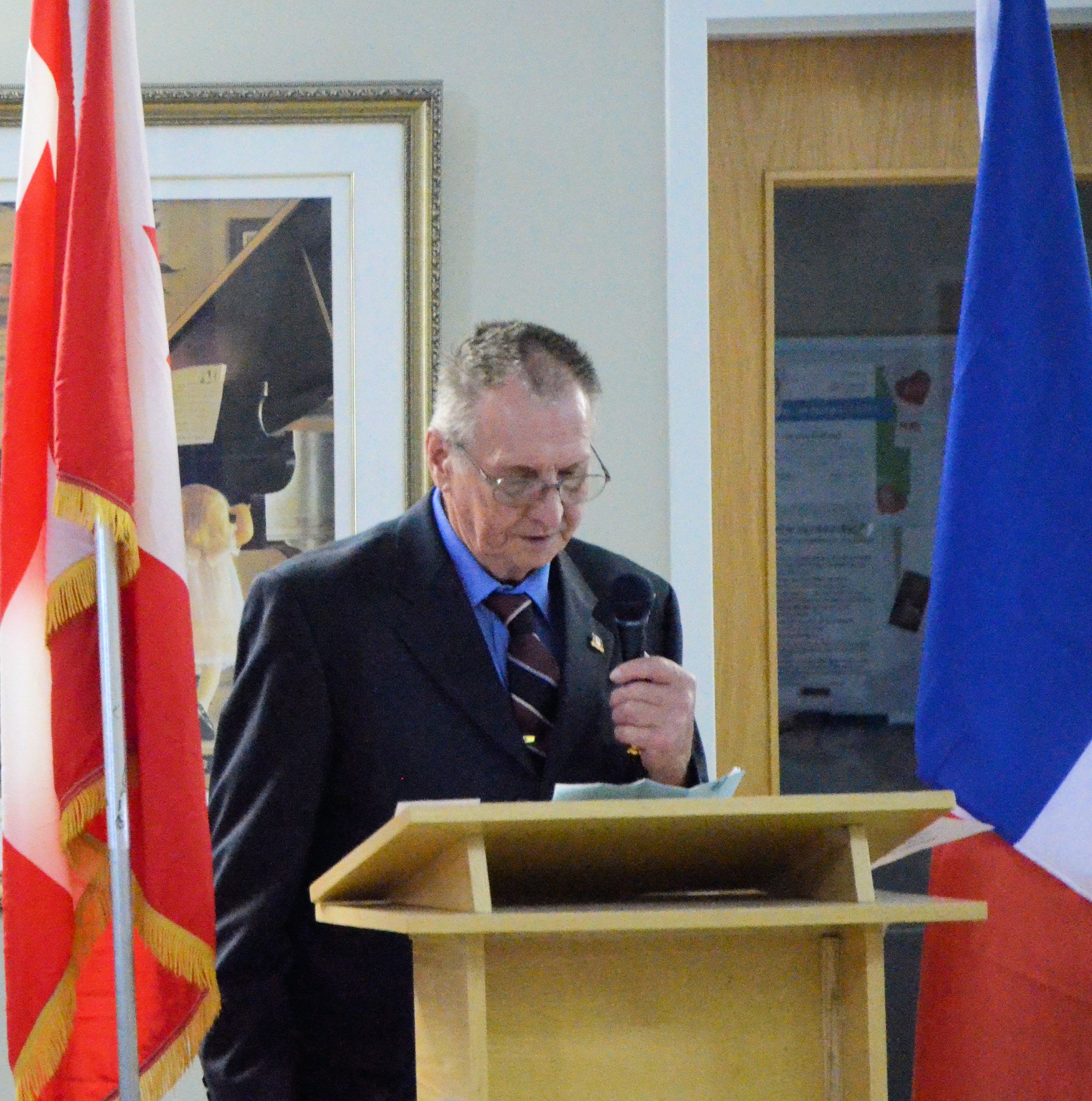 "In 1941, Bill enlisted in the Canadian army, joining the First Hussars, a London, Ontario, regiment." Bill trained as a heavy transport driver and went ashore on Juno Beach with the Allied Forces on D-Day. "The next day, June 7, Bill watched in horror as friendly force bombers mistakenly attached a nearby site where the Sixth Canadian Armoured Regiment had gathered. Bill's brother, Kenneth Fleming, was serving in that unit. Soon, Bill was informed that Ken had been killed in that raid… With his well-known grit and determination, Bill soldiered on, serving with the First Hussars through Northern France, Belgium and the Netherlands, 'right up to the German border.'"
After the war, Bill and Nellie  bought a farm of their own near Swarthmore. Harold was their only child. Later the couple moved into town where Bill was eventually honoured with life memberships in the Royal Canadian Legion Branch No. 90 and the Unity and District Heritage Museum  for his many years of hard work in both organizations. In 2012, Bill received the Queen's Diamond Jubilee Medal in recognition of his community service.
The citation concluded with this statement: "This brave, tough old soldier has served well both in war and in peace."
Earlier Martin had outlined some of the history of the French Legion d'Honneur. "The law that brought the Legion of Honour into effect was passed in 1802, during the reign of Napoleon."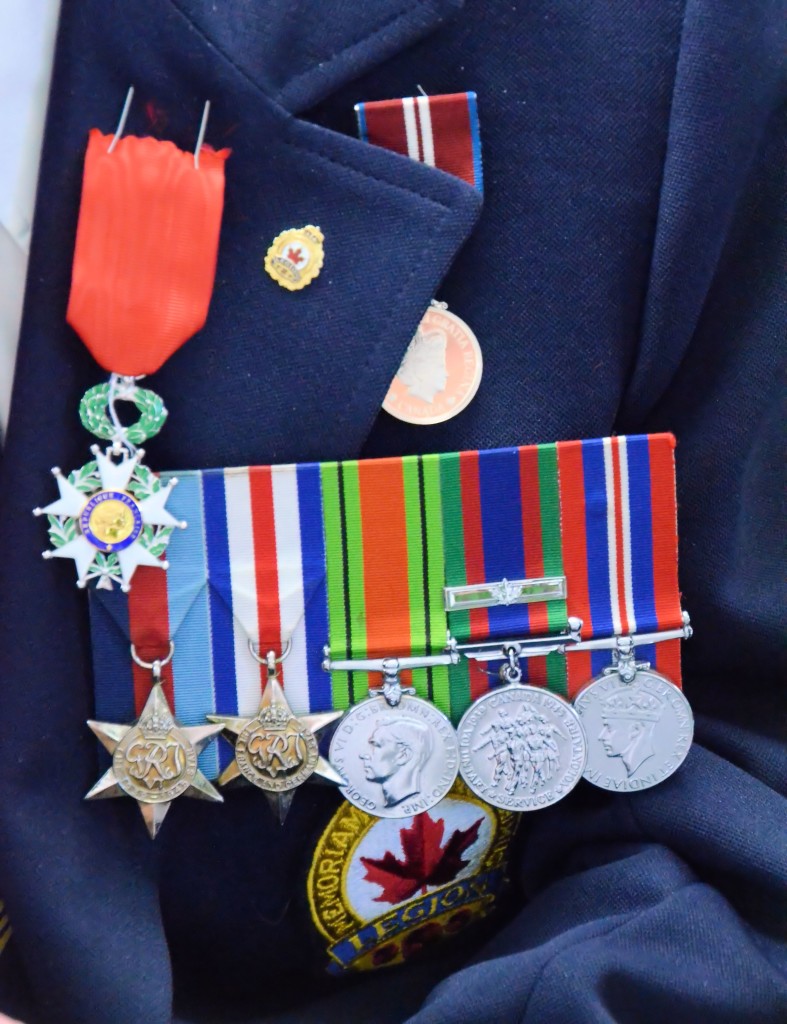 Previous Canadian recipients include former Governor General Michaelle Jean, former Quebec premier Jean Charest, former prime minister, William McKenzie King; Percy W. Nelles, Admiral and Chief of the naval staff during the Second World War; Rear Admiral Leonard Murray, commander-in-chief of Canadian Northwest Atlantic and architect of the Battle of the Atlantic; and Rear Admiral Desmond Piers, former commanding officer of HMCS Algonquin. "There are about 600 Canadian veterans still living in Canada, who have been added to what was a quite small list of recipients of the Legion d'Honneur," Martin said.
Unity Legion members took advantage of the occasion to also give Fleming his 90th Royal Canadian Legion Anniversary Commemorative Medal. Secretary Theresa Keller presented Fleming with the medal.
After both presentations had been made, the speeches concluded and God Save the Queen sung by those in attendance, many took the time to individually extend their congratulations to Fleming. Cake, coffee and socializing wound up the event. Bill cut the cake, surrounded by cameras!