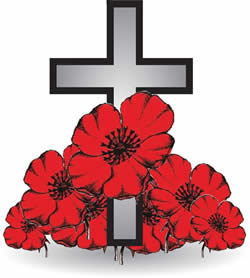 You don't want to miss our annual tribute to veterans in the November 4th issue of the Unity Wilkie Press-Herald.  Reporter Louise Robson was able to interview Si Campbell and Helena Long talked to Paul Marshall who built a number of metal poppies for installation at an international memorial in Ypres, Belgium. And don't forget to have a look at all the businesses and others who so generously sponsored this edition of the paper!
We haven't forgotten all the other important news such as:
local election results, for towns, villages, RMs and school boards;
a report on Luseland students' exchange with classes from New Brunswick;
an introduction to area senior hockey teams, and an explanation of why the Miners aren't playing this year; and
an assortment of Halloween photos.
Also a note if you are a Unity subscriber and receive your paper in your post office box. Due to changes in how we can deliver the paper to Canada Post, papers will now only be delivered at 1 Friday afternoons. If you wish to pick up your paper in the morning, please call the office at 306-228-2267 to make arrangments.