Shawna-Lynn Meier, daughter of Patrick Meier, was the valedictorian for the Luseland  School Class of 2014. We thank Shawna for sharing her speech with us! And thank you to Gerri Olfert for sharing her photo of Shawna at the podium!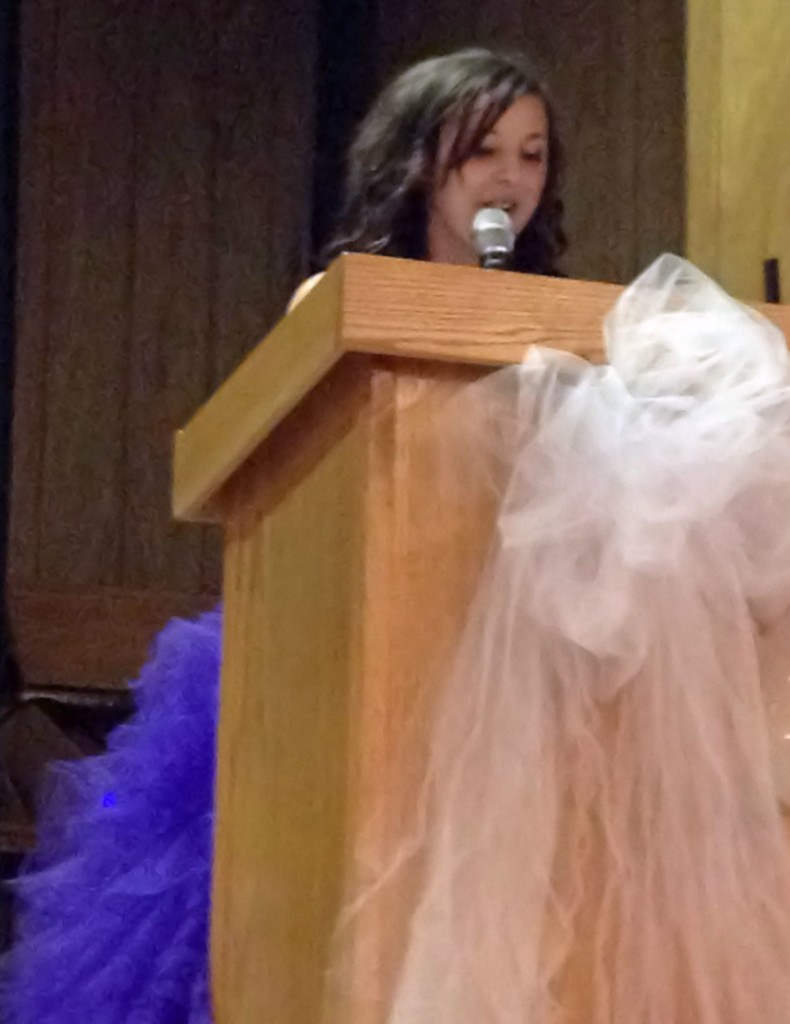 I would like to start out by thanking everybody for coming; you guys really succeeded at making us feel special tonight.
Next I would like to thank our teachers because – well, let's face it, without them we wouldn't be sitting up here today. With that, I would like to give an apology to Mrs. Fischer on behalf of my class because – well, let's face it, we weren't the role model class.
And lastly I would like to thank my class, because without you guys I wouldn't have even half the memories I will get to take home with me today.
In 50 years from now, when I look back at my high school years I'm not going to remember who had the highest average, who did better on what assignment or even what everybody drove! What I will remember is my classmates, their personalities and what great memories I had with them!
Our little family started way back in kindergarten with, Nick, Virginia, Ashley, Ryshan, Dustin, Christopher and Masyn. We got to know each other through arts and crafts, playing in the sand box and making castles with the big blocks that are still to this day in the kindergarten room. Growing up I learned things about each these people that I will never forget them for.
I will always remember Nick for coming into English late almost every day in Grade 12 and throwing his book on the table making as much noise as possible….. even after Mrs. Wetzil asked him not to for the 30th time.
I will always remember Virginia for being the one who held the clarinets together in band, yeahhhh whenever you left we sounded terrible.
Ashley I will remember as a person who will never give up, this is because she fell off one of my horses about five times in one hour but she never wanted to take a break or quit, after each time she got back on and pretended it never happened.
Ryshan I will remember for her ninja moves. One day walking through the cow pasture I thought it would be a funny idea to yell cow! And well before I could even blink she was gone and through the fence without even touching it.
Dustin I will remember for our competitions of who could beat who to Kindersly on days we had to do work experience…. Yeaaaahhh I think we both began leaving earlier and earlier each morning for that reason.
I will remember Christopher for his ability to almost yell any type of profanity in any class and not get caught or even realized by a teacher….
Masyn will be remembered for her bravery, because she was the only person brave enough to get thrown into the caraganas at my 10th birthday party.
In Grade 3 Luke was added to our family, crying and clinging to his mom's leg at first but soon he adapted and made a good addition
Luke will be remembered for his mullet, jords, and plaid shirts…..at the same time
In Grade 5 Lars was added to our family with all his Discovery Channel knowledge. I will always remember Lars for crashing into a semi.
We continued as our small family, playing grounders and having pop and chip class parties until Grade 10 when we had another two new additions, Emily and Lindsey. I will always remember Emily for her involuntary glares. She doesn't mean to glare at you; she swears it's just how she looks sometimes, but we wonder sometimes.
Lindsey will be remembered for her awesome bracelet-making skills. Whenever I look at starbursts, I will think of you.
In Grade 11, Sammi joined our little family, just in time to experience the Luseland life at its prime. I will remember Sammi for our grain truck cruises at harvest.
In Grade 12, just as we thought our little family was done, Tim joined. We didn't really get to know Tim very well but I will remember him for his ability to talk … a lot … in any situation.
Our class didn't always get along all the time but we were always there for each other whether it was helping each other make difficult decisions or helping Christopher finish his assignments.
If I could give my class any advice, it would be to always climb for the top of the ladder because the only thing that should stand between you and the top of the ladder … is the ladder.
And lastly a quote from Dr. Seuss: "You have brains on your head, you have feet on your shoes, you can steer yourself in any direction you choose, you're on your own, and you know what you know, you're the guy who'll decide where to go."
Thank You.