Sandra and Arnold Glassford, co-owners of Glassford's Funeral Home, live on a farm between Unity and Wilkie. They are both licensed funeral directors and as much as possible they like to use local funeral assistants to help carry out the services of their Funeral Homes. Embalming is done at the Unity facility.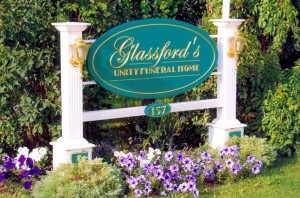 Arnold began in the funeral business in 1992, followed by Sandra in 2001.
In 2003 they purchased the Unity Funeral Home at 157 3rd Ave. West in Unity. In 2007 they purchased a second facility at 302 5th St. West in Wilkie.
For the Glassfords, providing funeral services is "more than just a business."
The couple feel that follow-up or after care is important and seek to serve each and every family with "dignity and compassion."
Some services they provide are visiting surviving spouses to help them in their time of adjustment; providing a lending library for those who are grieving as well as helpful literature at the time of death.
They seek to treat everyone with the same dignity and respect, and to do all they can to help make the farewell for their loved one,all they would desire.
Arnold and Sandra find it very rewarding to help people as they seek to follow their motto of "Serving with dignity and comassion."
For contact information and office hours, see http://unitystories.com/glassfords-funeral-home/