The Royal Canadian Legion, Unity Branch No. 90, hosted a special Dedication and Decoration service at the veterans' plot at Pleasantview Cemetery in Unity, Sept. 7. Padre George Ward led the special service, which included the national anthem, prayer, the laying of wreaths, remembrance and The Last Post. About 50 people attended the service, held to unveil a new sign (see photos above) and dedicate other improvements to the plot, including a new stone memorial at the base of the cross.
The new sign reads "Veterans' Plot, Royal Canadian Legion, Branch #90, Unity, Saskatchewan, July, 2014" on one side and lists the four wars of the 20th century on the other.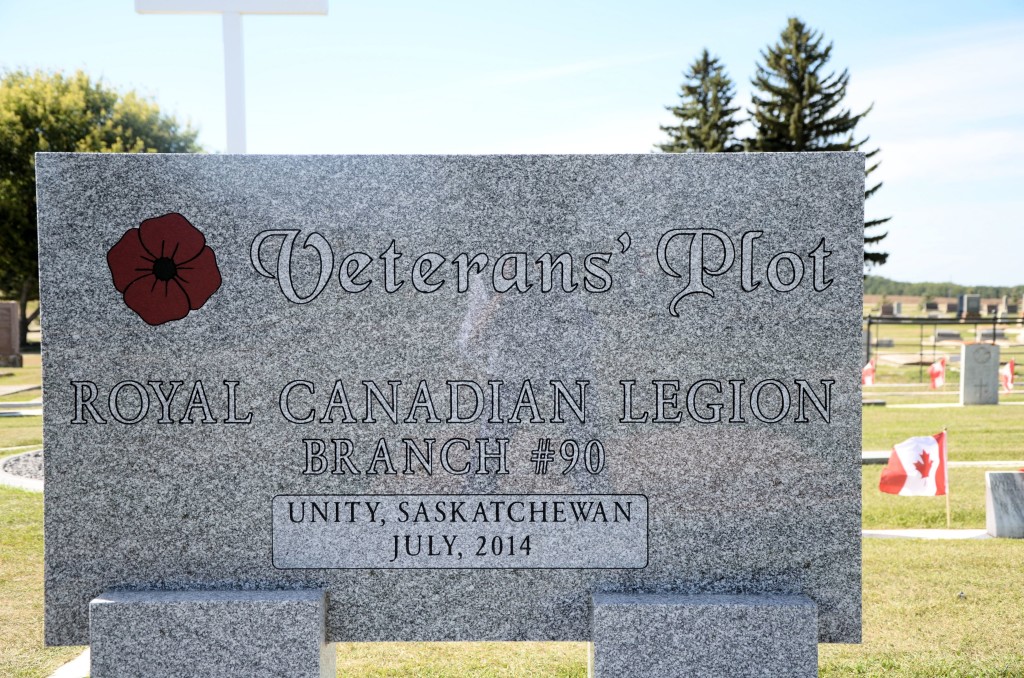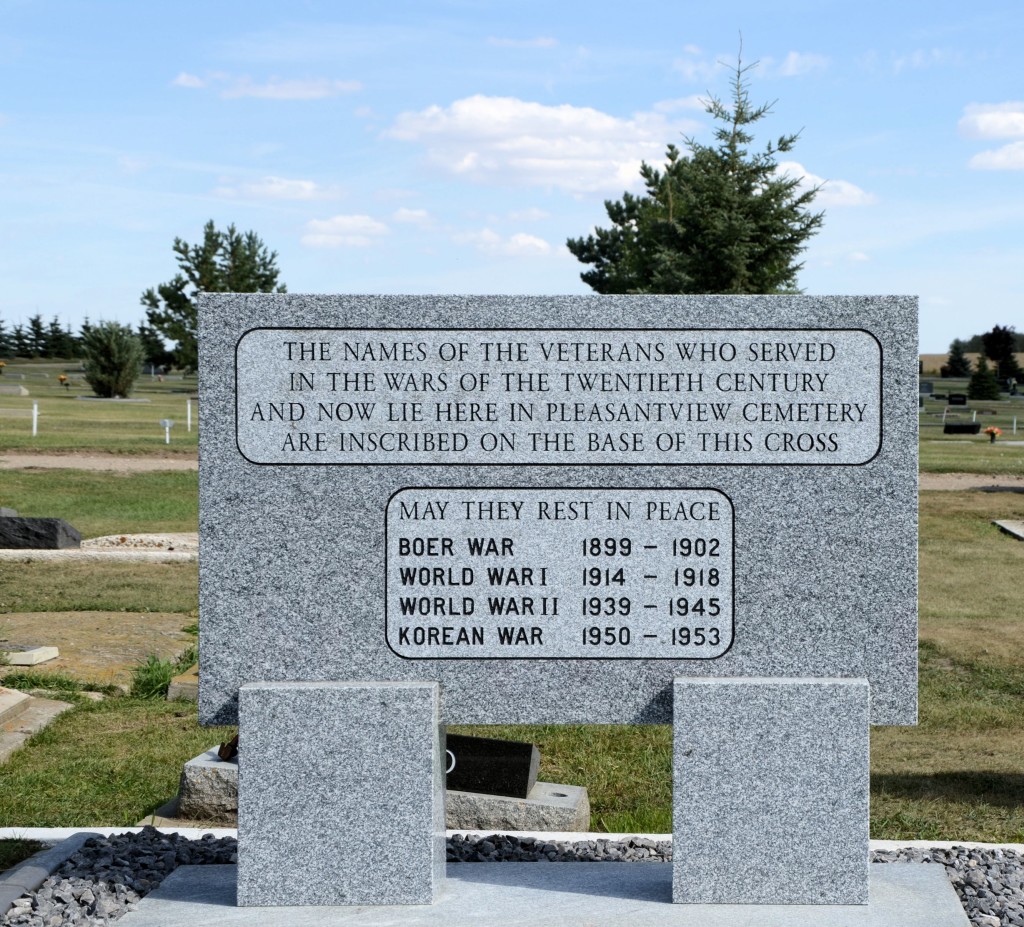 Legion member and Chair of Plot and Centotaph Mike Wildeman said that, although people tend to think of the two World Wars when they think of veterans, there are three Boer War veterans buried in the plot and there are two local Korean War veterans who wish to be buried there when their time comes.
The new large polished granite memorial at the foot of the cross, in the approximate centre of the soldiers' plot, bears 199 names – the name of every soldier who went to war from Unity and the surrounding areas.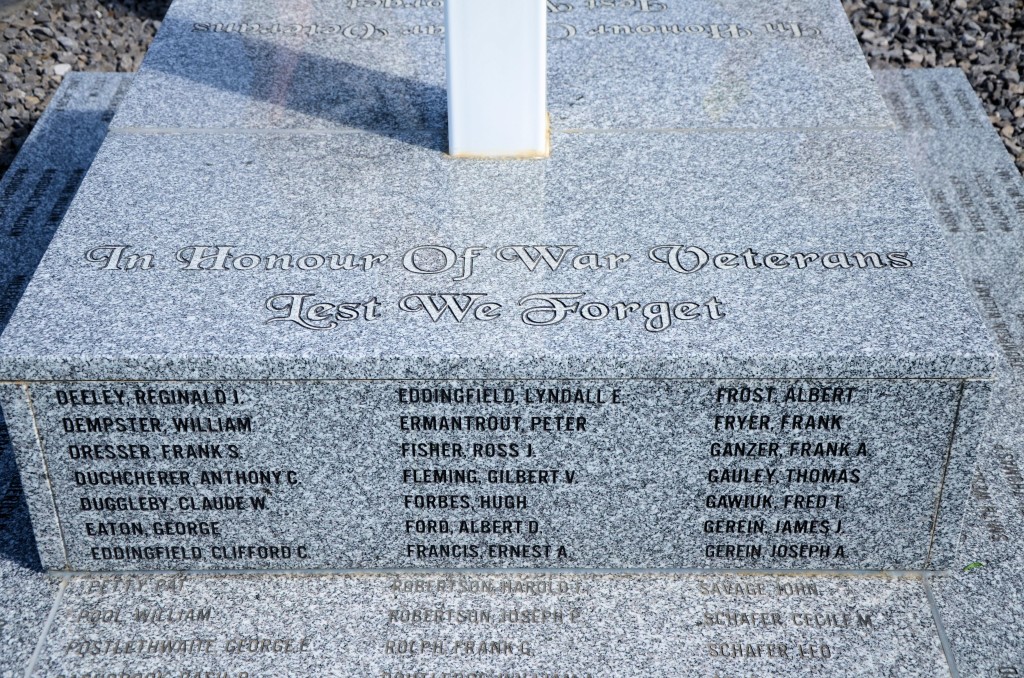 Wreaths were laid at the memorial and cross by Cst. Terry Forbes on behalf of the Government of Canada, former MLA John Britton representing the Government of Saskatchewan, Mayor Sylvia Maljan on behalf of the Town of Unity,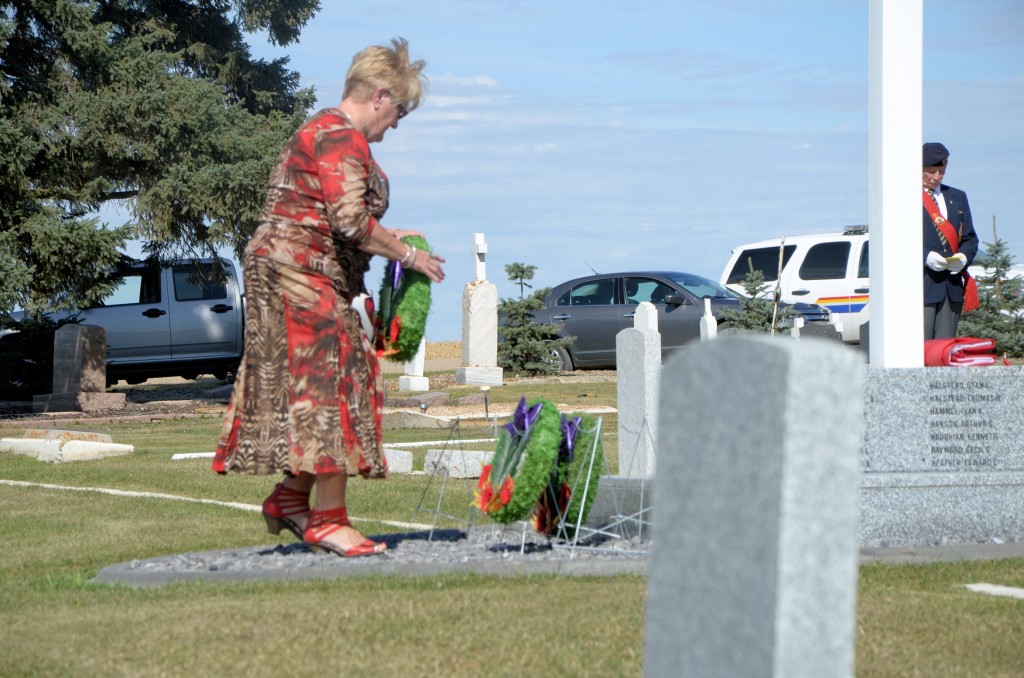 Second World War veteran and Legion president Silas Campbell on behalf of the Royal Canadian Legion, Unity Branch No. 90, Merv Bosch representing the RM of Round Valley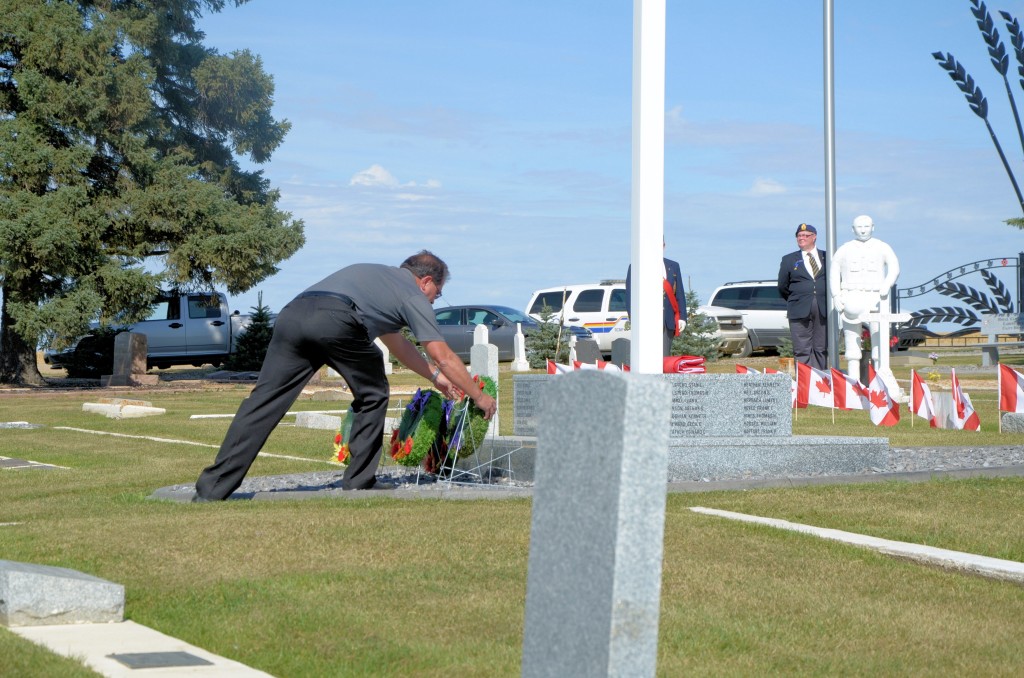 and Cpt. Lorne Kohlman on behalf of Royal Canadian Air Cadet Squadron Macklin No. 601.
Other improvements made to the cemetery include refinishing of the vinyl on the cross, refurbishing of the unknown soldier statue, cement borders outlining the walkways at the foot of the graves and a new flagpole and benches. With respect to the benches, it was said Legion members hope people visiting the cemetery will take time to sit and think about the sacrifices made by veterans.
Over $20,000 was spent on the site, the majority raised by the Unity Legion branch. The balance of the funds came from a federal grant and contributions from the Town of Unity and the RMs of Round Valley, Grass Lake and Tramping Lake.
Along with the Canadian flag flying at the top of the flagpole, and the one covering the new sign, which was respectfully removed at the appropriate time during the ceremony, 56 other flags fluttered in the wind, lined up along rows of gravesites. Wildeman said there were a flag for each local First World War veteran – 36 – and Second World War veteran – 20 – who died overseas. He noted that if you count the names on the cenotaph at the Legion/Lions Memorial Park in Unity, you will find 56 names.