Unity Western Days is fast approaching – May 30, 31 and June 1 – and that means our rodeo queen contestants are out and about selling tickets.
Each ticket you buy is a vote for the girl of your choice to be the 2014 Rodeo Queen. Tickets are only $1 each and will also be entered into a draw for $500, $300 and $150 Chamber bucks to spend at any store in Unity which is a Unity and District Chamber of Commerce member.
This year's rodeo queen contest is a little different – only one girl from Unity SK is running, Sharlee Zazalak. Joining her are Shawna Meier from Tramping Lake, Luseland girl Philmena Evans and Cut Knife's Tiffany Rea. Look for your opportunity to buy tickets in these communities, as well as from the contestants themselves. In Unity, tickets can be found at Our Drug Store and the Press-Herald office.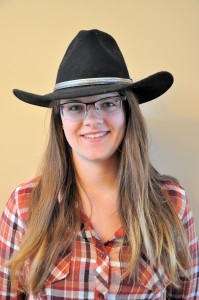 Sharlee is 16 years old and in Grade 10 at Unity Composite High School. Her sponsor is the Unity branch of the Royal Canadian Legion. Although she has seven older siblings, she's the only one left at home, living on an acreage between Unity and Wilkie with mother Helena Long and step-dad John Gottschalk.
She's  grown up around animals and loves spending time with them, including the current  goats, chickens, cats, dogs, horses and a duck.
In her spare time, she enjoys drawing, listening to music, snowboarding, playing basketball and spending time with horses. Sharlee wishes the other contestants luck, and hopes to see you all at the parade and the rodeo.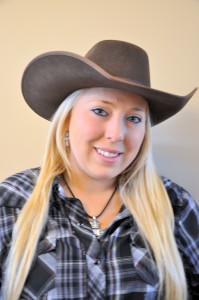 Philmena is 19 years old and lives on a farm outside of Luseland. Her sponsor is Luseland Wild Life. She works at Luseland Family Foods. Her parents are Tammy Schroh and Craig Evans. She grew up in Ruthilda with three siblings, moving to Rosetown at 15 and Luseland when at 18. When she turned 19, she worked on a cattle ranch for the summer.
In her spare time, Philmena enjoys riding her horse and training horses. She saved her horse, Lucy, from a meat buyer when Lucy was four and trained her for barrel racing.
Philmena also wishes all the other girls good luck!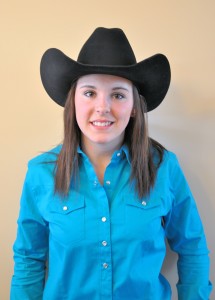 Shawna attends Luseland School. She is 18 and lives on a farm just outside of Tramping Lake. Her father is Patrick Meier, a full-time farmer. She is "super excited "to be running for Rodeo Queen on behalf of Luseland OK Tire.
When not working part-time at the Golden Prairie restaurant in Luseland, she is at home, nursing sick calves or tackling one or two for an ear tag or needle. She spends lots of time in the months of April and May working with her 4-H calves. If not busy with the cattle, she's working with her two horses.
Off the farm Shawna is the president of her school's SRC, captain of the volleyball team and she referees volleyball games when needed.
Shawna loves rodeos and her dream is to one day be able to barrel race in rodeos. She wishes all the other contestants good luck and looks forward to seeming them at the rodeo!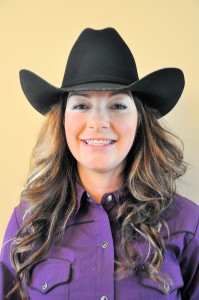 Tiffany and her fiancé farm just south of Cut Knife. They have a grain farm and are very active in the Cut Knife Community. Sponsored by Red Leaf Landscaping, she is a stay-at-home mom of two beautiful children and has also worked as a special care aid at Battlefords District Care Centre. She loves sharing lively discussions with the elderly who "have a wealth of knowledge to share."
She believes she is meant to work with horses and has been active in 4-H, both as a member and a leader, and takes part in team penning with Rocky, her blue roan quarter horse.
Tiffany has volunteered for Habitat for Humanity in Saskatoon and Search and Rescue in the Battlefords as she believes giving back to your community is tremendously important. Excited about running for Rodeo Queen, she too wishes the other contestants good luck.