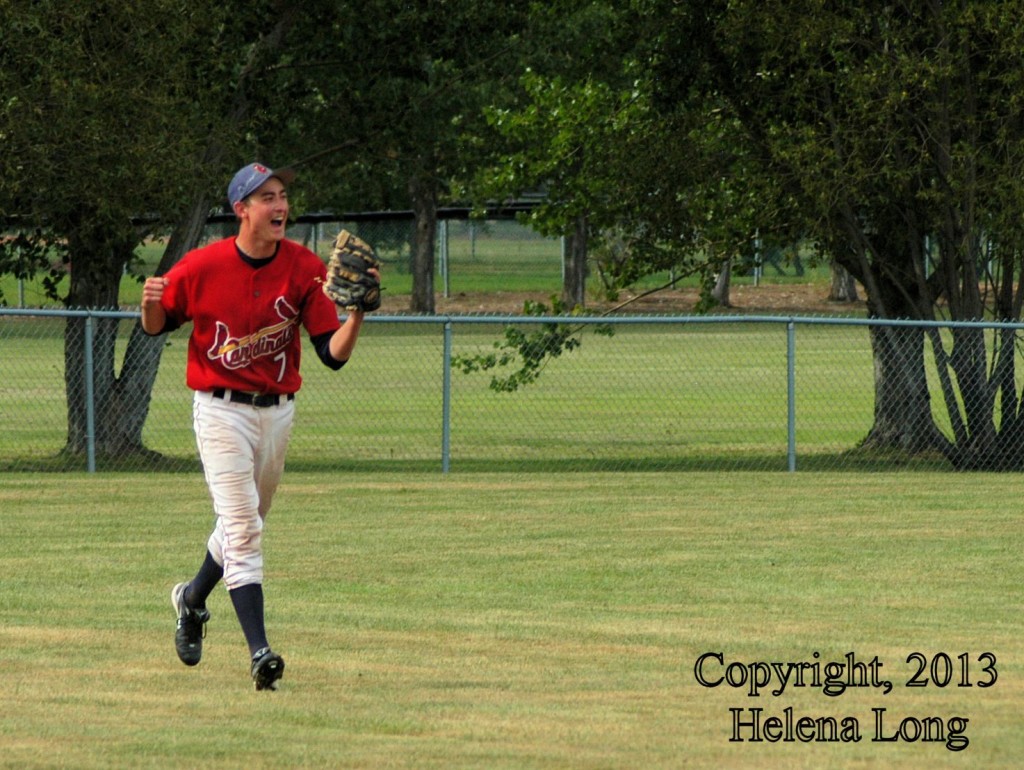 With the Unity Cardinals ahead 3-2, a very happy Cory Wildeman ran in after catching a fly to left field, making the third out in the final inning of the final game of the 2013 Saskatchewan Men's Senior A2 Provincial Championships.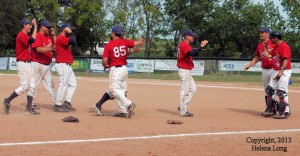 After losing 10-9 to the Bruno Bisons earlier in the day, the Cardinals came back to win the second game of the two-game final, giving them the senior men's 2A provincial title.
Cory not only made the last play of the game, he started the game off by being the first one up to bat, hitting a single. After he stole second base, a Justin D'Entremont hit to centre field brought him home to score the first run of the game.
Neither team was able to do much with the bats in the next few innings and the score was still 1-0 for Unity, going into the top of the sixth.
Justin was first up and hit a double, then scored when Ryan Greenwald also hit a double. Ryan ("Wheels") raced home on a single from Regan L'Heureux, to make the score 3-0.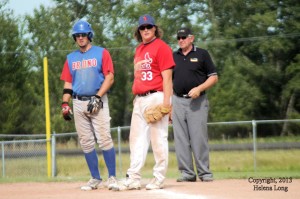 With two out in the bottom of the sixth, Bruno's Josh Kerpan hit a double and was brought home on a single by Kyle Sibley. With a potential tying run at the plate, Cardinal pitcher Taylor Heck struck out Curtis Sibley to finish the inning with the score 3-1 for Unity.
A change in pitchers for Bruno brought catcher Cody Thiel to the mound and the Cardinals were unable to get on base in the top of the seventh.
Taylor Heck had pitched the entire first six innings, as well as the final inning of the game earlier in the day. After the Brunos got two players on base, Ben Gieni was called in to relieve Taylor, who was ultimately named the game MVP.
Thiel scored for Bruno, making the score 3-2. The Bisons loaded the bases and Cameron Weiman hit to left field where Cory caught the ball, getting the third out and ending the game. The score stayed at 3-2, giving Unity the win and the provincial championship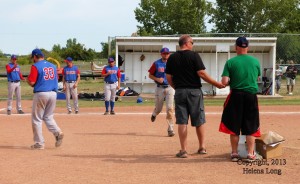 Members of both teams were presented with individual plaques to recognize their accomplishments and, of course, the Cardinals get to show off the large championship plaque unitl this time next year.
Congratulations, boys, on your win and competitive ball playing!