We Day, the multi-media, multi-speaker event held to motivate and empower young people, was held in Saskatoon November 6. Students from 325 Saskatchewan schools – including Unity Composite High School, McLurg High School, Luseland School and St. Peter's School – made up the audience of some 15,000.
For a detailed article on the event and additional photos, please see the November 18 issue of the Unity-Wilke Press-Herald. For response from local students who attended We Day, please see the November 25 issue of the Press-Herald.
Spencer West
Born without legs, Spencer West shared his story with the We Day audience. As he explains on his Facebook page, "As a kid, every time I went out, whether to the grocery store or a restaurant, people would point and whisper, 'Where's that guy's body? Where's his legs? He looks crazy!'
"Nobody even asked me my name first. People were seeing my disability, instead of me. So I changed my story a bit. When asked, 'Where are your legs?' I would say, 'I left them in my other pants' or 'I was swimming in the ocean and this shark swam up and BIT THEM RIGHT OFF!' If I could get them to laugh, people were forced to see me as a person."
A trip to Kenya gave West a moment of incredible insight. "Upon my arrival I was surrounded by swarms of school kids, who bombarded me with questions about my life. A little girl raised her hand and said, 'I didn't know this sort of thing happened to white people, too.'
"Suddenly, I understood that instead of trying to be like everyone I was different for a reason. I was different because I needed to show others that it doesn't matter what your abilities are or where you come from in the world. If you work hard, never give up and laugh a lot, you can achieve anything. Now, as a motivational speaker for Me to We, I've spoken to audiences around the world about courage, shark attacks and making a difference."
Martin Luther King III
Martin Luther King III is the oldest son of the late Martin Luther King Jr. Images and portions from his father's "I have a dream" speech were played on large video screens several times during We Day in recognition of the 50th anniversary of the speech.
King told the students his father used to say, "You can be a thermometer or you can be a thermostat." In other words, do you want to change things or just record them? King had everyone raise their voice in chanting, "Spread the word, have you heard? All across our nation, we are going to be a great generation."
Magic Johnson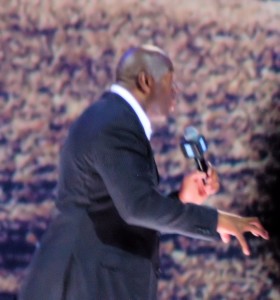 NBA legend Magic Johnson told the audience that when he was a child, his mother sent him out to shovel the driveways of elderly neighbours. While he didn't really appreciate that at the time, later "I realized they were teaching me to give back, to help mankind."
Johnson asked the students to change their schools, change their communities, help their neighbours. "The greatest person that I know is a person who always helps somebody else. That's the coolest person on earth," he said.
Taylor Devos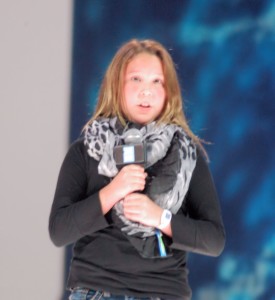 Taylor Devos is from small-town Saskatchewan and is "1 kid making a difference." At the age of 12, she stood with microphone in hand and told the packed Credit Union Centre in Saskatoon how determined she is to raise enough money to build a school in Haiti.
Starting when she was 10 years old with the sale of T-shirts and bracelets, along with holding small events in her hometown of Porcupine Plain, Taylor is nearing her goal of $15,000. As of We Day in Saskatoon, Nov. 6, she has already raised $12,700.
Bill Doyle, Potash Corp CEO
Bill Doyle, president and CEO of Potash Corporation of Saskatchewan Inc., spoke about the importance of food security. He explained that in Canada we can walk into a grocery store and see shelves and shelves of food but that's not the case around the world. In some places, there aren't even any grocery stores, let along ones as well stocked as ours.
"The number one requirement is to feed people each and every day before anything else can be done," he said.
Potash Corp is sponsoring 25 scholarships for Canadian youth to visit India next summer and learn first-hand about food security in the developing world. During media interviews, co-founder of Free the Children Craig Kielburger specifically encouraged students from Saskatchewan rural and farming communities to apply for the scholarships.
Go here to apply! http://www.freethechildren.com/get-involved/we-youth/leadership-training-in-development/overseas/potashcorp-youth-trip-scholarship/
Donisha Prendergast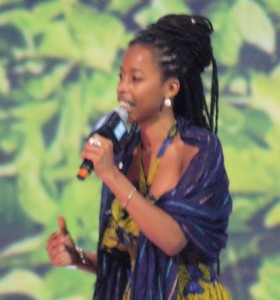 Donisha Prendergast, granddaughter of Bob and Rita Marley, spoke about love and revolution. "At the heart of every revolution is love," she said. She also pointed out the word "revolution" has the word "evolution" in its centre.
Prendergast also spoke about overcoming difficulties and challenges. "We aren't meant to feel the pain forever," she said, in a reference to bullying.
"My grandparents few up in the concrete jungle of Jamaica where 'they' said nothing could ever grow, and today I am standing here speaking to 15,000 people about the power of love."
For a short video from We Day featuring Shawn Desman and the Kenyan Boys Choir: http://unitystories.com/press-herald-nov18/
For more information about the work of Free the Children: http://www.freethechildren.com/
And don't forget about the new free app for year-round motivation and ideas on how to change the world. Look for the We365 app at your favourite app store.