Sister Valentia Leibel, well-known to readers of the Unity Wilkie Press-Herald's Faith Matters column, was pleased to welcome special guest Suzanne Paschall of Saskatoon to Unity , Saskatchewan, April 10. Paschall, an editor and founder of Indie Ink Publishing, came to help celebrate the launch of Sister Val's book, Heart of God, fresh from the printing press.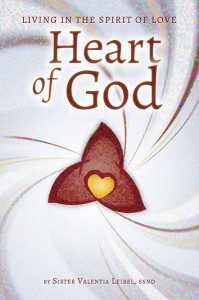 Heart of God: Living in the Spirit of Love is a compilation and adaptation of some of the best of Sister Val's Faith Matters columns from over the years, together with some previously unpublished articles on human trafficking.
Kathleen Cornell, provincial leader – Atlantic and Midwestern provinces, of the School Sisters of Notre Dame, Sister Val's order, says, "Heart of God celebrates the goodness of people, and recognizes our need to accept and forgive. The simple yet profound language used to tell these stories is warmly engaging and delightful."
The book is available at Our Drug Store in Unity, at St Peter's Parish and church offices or directly from Sister Val herself.
Sister Val grew up on the family farm at Denzil. She is the second oldest of 14 siblings and was named after her father, Valentine Leibel.
She was only 14 years old when she felt God's call and, at 17, went to Waterdown, Ont., to study with the School Sisters of Notre Dame. "I wanted to be in a situation where I could tell the whole world about God's love," she says, explaining her decision to join an international order of nuns rather than choosing one closer to home.
Becoming a School Sister of Notre Dame did indeed open doors worldwide for Sister Val. While she has served God's people in many places in Canada – including Regina, Luseland and Tramping Lake in Saskatchewan as well as in Edmonton, Alta., and Burlington, Ont. – she also was named to chair an international committee headquartered in Rome.
Chairing that international committee was the biggest challenge of her career. The goal was to involve SSND from all over the world in the updating of their constitution. Much of the communication had to be done with translators but, she said, "We worked out a really good process so all the sisters could be involved."
A car accident which smashed a femur put an end to that posting. The recovery was long and difficult and, Sister Val says, "For a while, I thought I would never be myself again." The accident happened in October. Still healing, in March the following year, she returned to Canada to spend time with her parents.
Sister Val has always kept a journal. As well as her contributions to Faith Matters in the Press-Herald, she has had articles published in the Notre Dame magazine. She also contributed for many years to the Canadian Catechism series produced by the Bishops of Canada.
As well as being a contributing writer, she helped teachers learn how to use it. She also taught parents and grandparents how to use the series to teach their own children and grandchildren as many rural areas did not have priests available to do the teaching.
As interesting and rewarding as international work was, Sister Val thinks her biggest accomplishments have come from teaching and teaching others how to teach, and from her work in pastoral ministry in Luseland and Tramping Lake. She feels she has been a positive influence for people through "listening and giving advice."
She adds she herself was "very blessed by the upbringing I got at home and by the people I've met and lived with over the years."
Her contribution to Faith Matters in the Press-Herald began in January, 2006. Father Gerard, then parish priest in Unity and short of time, asked Sister Val if she could write the articles on behalf of St. Peter's Church.
Eight years later, Sister Val is still a faithful contributor to the Press-Herald and now her most popular and thought-provoking pieces can be found in her first book, Heart of God. Sister Val's approach can be summed up in a statement she made during her interview: "People don't need fire and brimstone; they need to know they're loved and forgiven."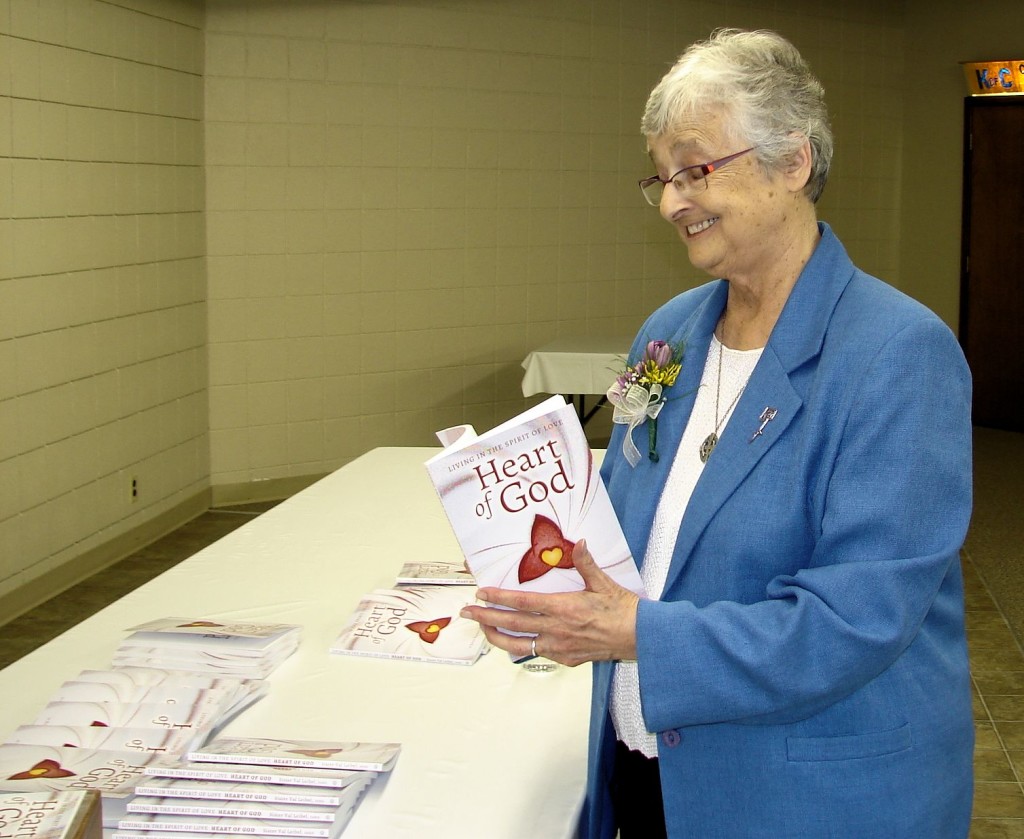 In the conclusion to her book, she writes, "I have always believed and experienced God's unconditional love. Even when I was experiencing the hard things in life and relationships, I always knew God loves me unconditionally and always. I pray that my humble reflections will help others grow in their trust and acceptance of God's unconditional love for them."