In a must-win situation, the Bruno Bisons defeated the Unity Cardinals 10-9 in the first game of the championship final series August 11 in Saskatchewan senior men's A2 provincials.
The Bisons jumped out to an early lead, scoring two runs (Curtis Sibley and Cody Thiel, each an MVP in earlier games) in the first inning.
Cory Wildeman runs past his cheering fellow Cardinals on his way to home plate, after hitting a homerun.
Cory Wildeman retaliated for the Cardinals with a homerun out over left field, followed by a Ben Gieni three-base hit and score in the second, tying the game 2-all.
Unity pulled into the lead in the third inning with two runs to Bruno's one and a score of 4-3.
The fourth inning saw Unity bring home four players to score, including Justin D'Entremont who hit a home run over the right field fence. With Bruno only scoring one run in the inning, Unity was now ahead 8-4 and maintained their four run lead through the fifth inning which ended with a score of 9-5.
Bruno fought back hard, however, and scored five runs in the sixth inning, taking the lead at 10-9. Their runs included a three-base hit by game MVP Chris Osmak, who scored on an RBI from Curtis Sibley. That run proved to be the game winning run for the Bisons.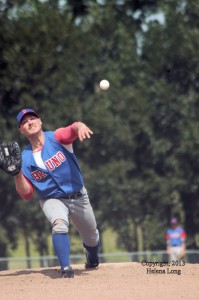 The Cardinals, despite their last-bat advantage, were unable to score in either the sixth or seventh innings and, if they were to win provincials, would have to do it the hard way –with back-to-back games.