Tag Archives:
K.P. Gardens
Where our Dreams Have Grown
By Nikki Paggett
Colors so bright and smells so sweet
that joy & peace is hard to beat.
Dirt under your nails and sweat on your brow,
when we started, who'd dream we'd be here now!
 With concrete and wood, a dream was sown,
as part of the family, a greenhouse had grown.
It came with its struggles, trials and pain,
but even more, there was so much to gain.
 A small framed shelter, we watched as it grew,
biting off more sometimes, then we knew how to chew.
The square feet expanded, the family got older,
so did our dreams, getting bigger and bolder.
 If this plastic could talk, oh the tales it would share,
memories & moments, more than our hearts could bear.
Under these roofs, more than flowers have grown,
laughter, love and friendship were sown.
 25 years and we're not done yet,
much more to blossom & memories – you bet!
To this milestone we've made it, only together we succeed,
with our family & friends, our hopes and dreams to exceed!
At K. P. Gardens, customers happily breathe in the aroma of spring as they choose their plants from the great selection that has been given to them in a labour of love from the Paggett family,  serving Unity, Saskatchewan and surrounding area for 25 years.
In their 25 years of being in the greenhouse business, located on Highway 14 just east of Unity, Jim and Kathy Paggett have seen continual changes as K.P. Gardens has evolved into the business it is today.
Starting with a small shed and growing into several buildings has taken commitment, passion for their work and pride in what they do.
In 1994, the big structure that now houses their main greenhouse was erected by Jim and his boys. Year by year more buildings were added, including a perennial house, a tree and shrub structure and, most recently, a lawn accessory area.
The family business started out as just that – Jim, Kathy and their three kids. As the kids grew up and moved on, staff members came on board. K.P. Gardens now employs 11 people in season. Son Steven,  visiting from B.C. with his kids, was also working on their 25th anniversary celebration day. May 24.
Kathy said her staff has grown into her family and she "couldn't do it without my staff. They spend the off-growing season researching new products and plants and coming up with ideas for the displays and new ventures they might take on the next spring. It's a combined effort. Each year we try a little something new in plants, displays and products to keep our customers always wanting to return to a fresh and new look as well as wanting to return for their old favourites."
Their season is definitely affected by the weather. Whether Mother Nature delivers drought conditions or a cold spring, K.P. Gardens forges on. It is one of the reasons for their longevity – always being there for the customer regardless of what the weather might bring.
Plants are started in February and the staff begins working in March. The greenhouse season to customers may seem like a short one, running from April to the end of July, but it is a year-round process for the Paggetts. Following the selling season, Kathy starts planning for the next growing season, placing her orders, visiting greenhouse shows and designing the product layout and sales features for the following spring. And there is always building and yard maintenance.
K.P. Gardens helps out in the community by donating and assisting with flowers for long term care, the museum grounds and the hospital. Kathy also does some custom growing of orders given for special occasions or people's yards. This year she held some potting classes that included a mom's and tots group.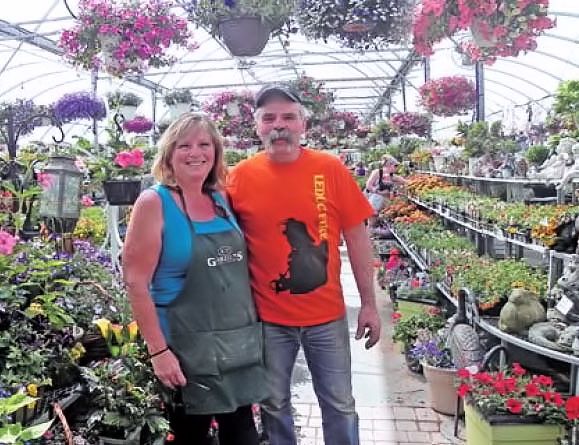 Jim and Kathy have no plans to slow down as they love the business they are in, they have developed great relationships with their customers and their staff have become like extended family. Their customer base has grown as other greenhouse operations have closed; they even have shoppers coming from Provost, Lloydminster and North Battleford.
Everyone, regardless of where they hail from, is treated with the same down-home, friendly and knowledgeable service. ensuring K.P. Gardens is sure to be around for many more years of shopping pleasure for gardeners.