UNITY SK RCMP REPORTS for May 3 to 9, 2016
RCMP received a complaint of theft. Members located the subject of complaint who returned the stolen item.  No further police action necessary as this was a civil matter.  No charges were laid.
Police received a complaint of an individual staring at another individual as a means of intimidation. Member warned subject of complaint.
There was a report of an air seeder obstructing Highway 21 as the tractor towing it had broken down. Members directed traffic until the air seeder was moved.
RCMP received a complaint of a suspicious vehicle near Scott Colony. Members patrolled but could not locate the vehicle.
There was also one false 911 call, one traffic complaint and one false alarm.
In Macklin, officers assisted Macklin School with traffic control while a military helicopter landed as part of a school function. Captain Connor Ryan, formerly of Macklin, Saskatchewan and a graduate of Macklin School brought his aircraft and crew to Macklin to show the students and community the aircraft that he flies in service of his country.
Persons with information about crimes being committed are urged to call the Unity RCMP detachment at 306-228-6300; the Wilkie RCMP at 306-843-3480; or the Macklin RCMP at 306-753-2171. If you wish to remain anonymous, you may also call Saskatchewan Crime Stoppers at1-800-222-8477, or *8477 on the SaskTel Mobility Network. Crime Stoppers will pay up to $2,000 for information which leads to the arrest of person(s) responsible for any serious crime. Crime Stoppers is anonymous and does not subscribe to call display, nor are your calls traced or recorded.
You can also submit a tip online at www.saskcrimestoppers.com.
Below, a military helicopter, piloted by Cpt. Connor Ryan, lands at Macklin SK.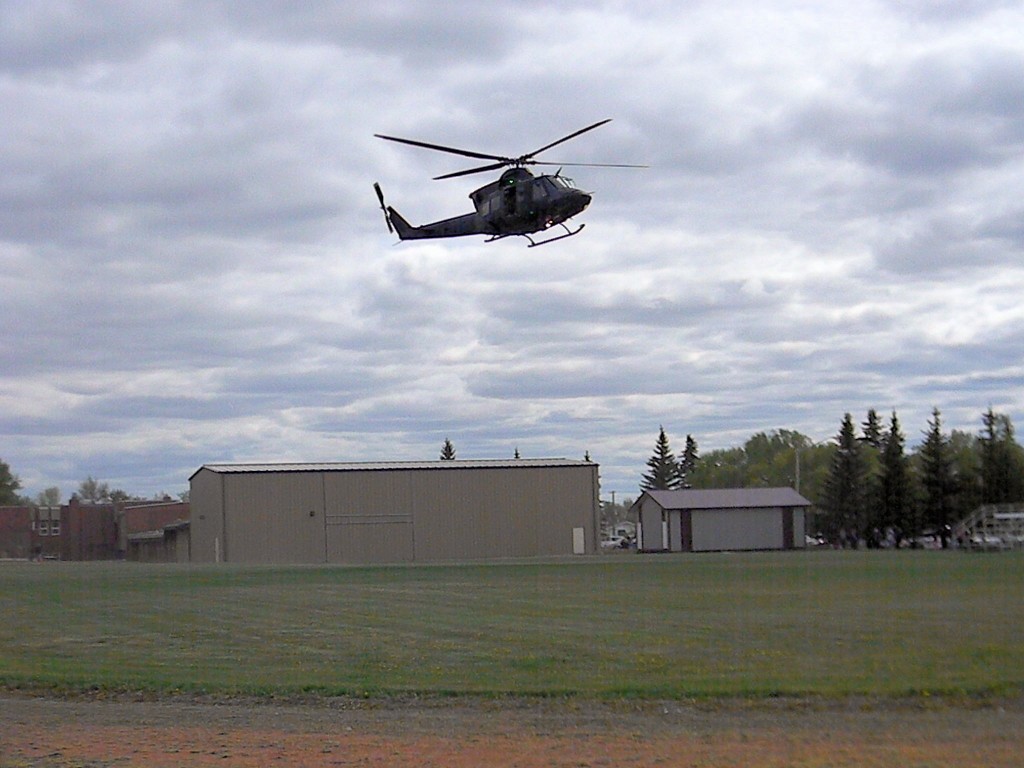 (photo courtesy of the RCMP)