In a scene repeated in hundreds, if not thousands, of Legion halls across the country, members of the Unity Royal Canadian Legion gathered Nov. 1 to judge the poster entries in the annual Remembrance Day Poster and Literary Contest.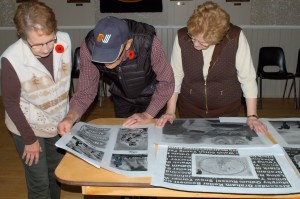 Si Campbell, Irene Thiessen-Campbell and Vern and Sadie Burns spent half a day examining somewhere between 500 and 600 posters. They all agreed creating a short list of possible winners in each category was the easy part but picking the final top two out of the short list of top contenders was far more difficult.
The Legion members spread out all the posters in one category or division at a time. There are four categories all together: primary – kindergarten and Grades 1 to 3; junior – Grades 4 to 6; intermediate – Grades 7 to 9; and senior – Grades 10 to 12. Students from all three schools in Unity send in posters for the competition.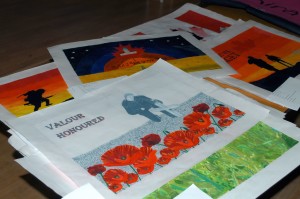 Each category is further divided into colour posters and black and white posters. From the submitted posters, the group of judges had to select first and second place winners in each of the eight divisions.
The rules, set by the national Legion office, say "Entries will be judged on originality, expression of designated subject, drawing and illustration. The poster shall reflect Remembrance with a Canadian theme."
The winning posters are kept by the Legion and sent off to zone competition. After making their way through local, zone and district levels, the best posters, essays and poems in the province are chosen and forwarded to Ottawa for the national competition. National winners are displayed at the Canadian War Museum in Ottawa for one year, while second and third place winners are displayed at Parliament Hill during Remembrance week. Eventually even these posters make their way back to the students.
As well as cash prizes at each level of competition, the senior national winners of each of the poster contests, and of the essay and poetry contests, are flown to Ottawa to attend the national Remembrance Day service where they place a wreath on behalf of the youth of Canada. They also have an opportunity to meet and visit with the Governor General.
The winning entries forwarded from the Unity branch of the Royal Canadian Legion have often seen some national success but our local Legion members are still waiting and hoping to have a senior national winner so they can send someone off on the Remembrance Day trip to Ottawa.