Ever wonder how buyers of old jewelry and coins decide what to pay you? Me too!
So when I saw Ursa Major Gold Silver & Coin was at the New Horizons Hall in the Town of Unity last May, I stopped in with an old men's wedding band.
The first thing Barry Dick of Ursa Major did was pull out a magnet. Gold and silver are not magnetic so using the magnet is a quick way to eliminate costume jewelry from consideration.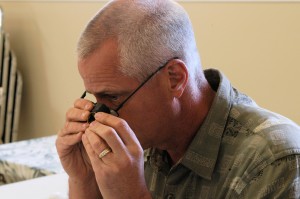 Next Barry used a magnifying glass to look for a hallmark. The wedding band had one indicating it was 14 karat gold, i.e., 14 parts gold and 10 parts some other metal.
Then the ring was put on a scale to be weighed. Weights and Measures Canada – the same agency that inspects gas pumps to make sure they are recording the proper amount of fuel being pumped – certifies scales used in businesses that buy and sell goods by weight.
The weight of the ring, and the fact it was 14 karat gold, was put into a spreadsheet on Barry's laptop computer, which then calculated the price. The spreadsheet is tied to the world market prices of gold and silver.
Barry emphasized he is only buying the gold or silver in a piece of jewelry, not the jewelry itself, regardless of any craftmanship that might be involved.
When it comes to coins, however, he does pay a premium if the coin is rare, collectible and in good shape. Paper money can also be collectible — see the article about Barry Dick on page 13 of the October 21, 2013 issue of the Press-Herald for serial numbers valued by collectors.
Whether you seriously want to sell some old coins and/or jewelry or are just curious about what it might be worth on the metals market, keep an eye out. Ursa Major Gold Silver & Coin comes to Unity about once a year.