With several communities reporting children and youth being approached by a suspicious male, RCMP have issued several media releases and Living Sky School Division is asking parents to talk to their children about "stranger danger."
The most recent incident was report by Battleford RCMP, after a nine-year-old boy was approached April 18 at approximately 8 pm in North Battleford, Saskatchewan. The suspect in question was a male driving a white, 15-passenger van with cardboard in one rear window. The male driver is described as older and of First Nations descent. No further information was obtained.
The information is being shared with the public in hopes of obtaining further information in relation to this van.
On April 11 a similar incident was reported to RCMP in the Cando, SK area and the vehicle in that situation was reported as a white pickup truck.
Earlier this spring, March 25, Sandy Bay RCMP received a report that around 11 pm the previous night, a 14-year-old girl had been walking home from a relative's house in Sandy Bay, Saskatchewan when an unknown male in a black truck stopped to talk with her. The man in the truck called the girl over to the window and, when she was close enough, he grabbed her by the wrist. The girl was able to break free from the man and ran home while the black truck drove off in the opposite direction.
That vehicle was described as a black truck, possibly a Dodge Ram.  The driver was described as an adult male in his 30s with light skin. He was wearing a black hoodie, a hat which said "Creighton" on it and glasses. The man also had a scratch on his left cheek and was the lone occupant of the vehicle.
A police sketch has been rendered of the suspect in the Sandy Bay incident.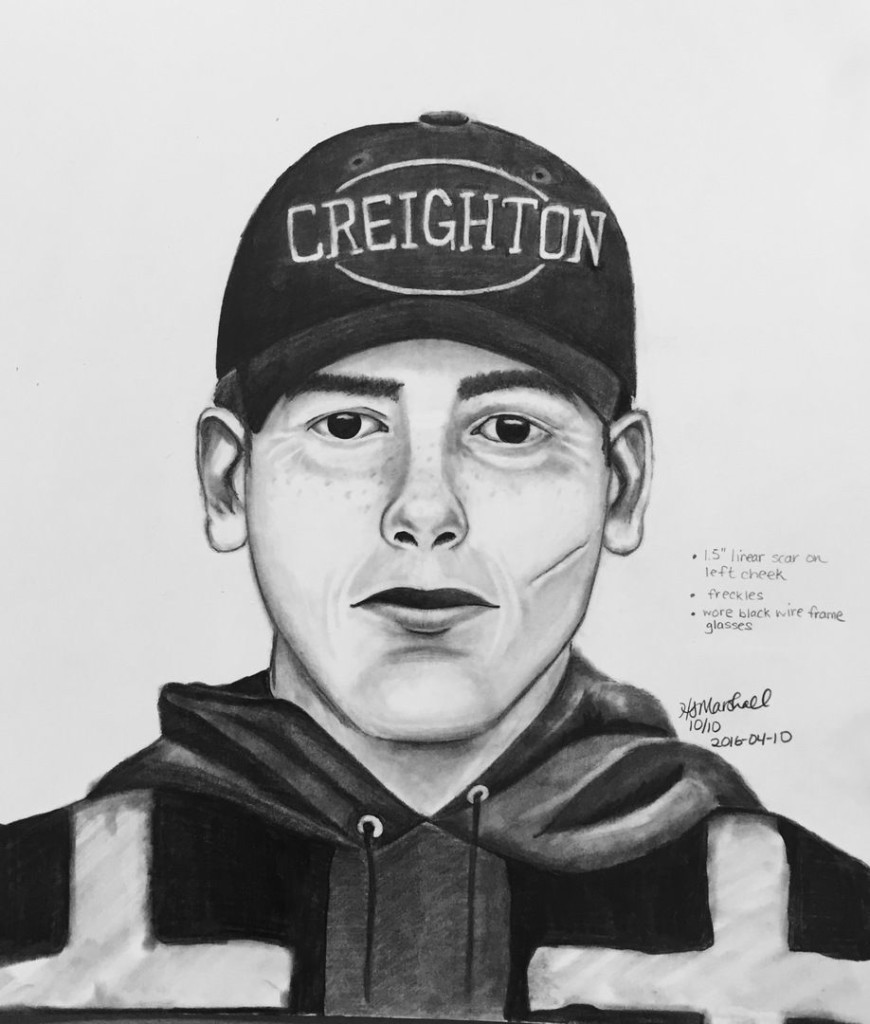 Investigation thus far has failed to locate any of the individuals.
RCMP was reminding parents to talk to their children about the inherent dangers of speaking with strangers . Parents should ensure appropriate safety precautions and plans are discussed with their children. Travelling with an adult or a friend is always best as well as advising a parent or guardian of your destination/return.
All incidents of suspicious persons and activity should be reported to the RCMP.
All persons with information about crimes being committed are urged to call the Unity RCMP detachment at 306-228-6300; the Wilkie RCMP at 306-843-3480; or the Macklin RCMP at 306-753-2171. If you wish to remain anonymous, you may also call Saskatchewan Crime Stoppers at1-800-222-8477, or *8477 on the SaskTel Mobility Network. Crime Stoppers will pay up to $2,000 for information which leads to the arrest of person(s) responsible for any serious crime. Crime Stoppers is anonymous and does not subscribe to call display, nor are your calls traced or recorded.
You can also submit a tip online at www.saskcrimestoppers.com.