With cleanup of the oil spill in the North Saskatchewan River ongoing, RCMP are issuing a couple of warnings.
For motorists using Highway 21, Maidstone RCMP would like to advise that the speed limit on the river hill on Highway 21 at the North Saskatchewan River (Toby Nollet Bridge) has been reduced to 60 KM/HR as a temporary site of operations for the river cleanup has been established there. The site is set up on the east side of Highway 21 at the North Saskatchewan River and there is a significant amount of vehicle traffic coming on and off the highway.
The site has been identified as a road hazard and the speed zone has been changed accordingly by the Department of Highways. At this time, there is no end date for the speed zone change.
The Maidstone RCMP are undertaking traffic safety initiatives in the area including check stops and speed enforcement. They ask that you please obey the signs and posted speed as it may prevent a serious collision and save a life.
FYI, the average speeding ticket for somebody going 20KM/HR over the posted speed limit is $130.
Below: RCMP photo of a cruiser beside the road hazard sign on Highway 21.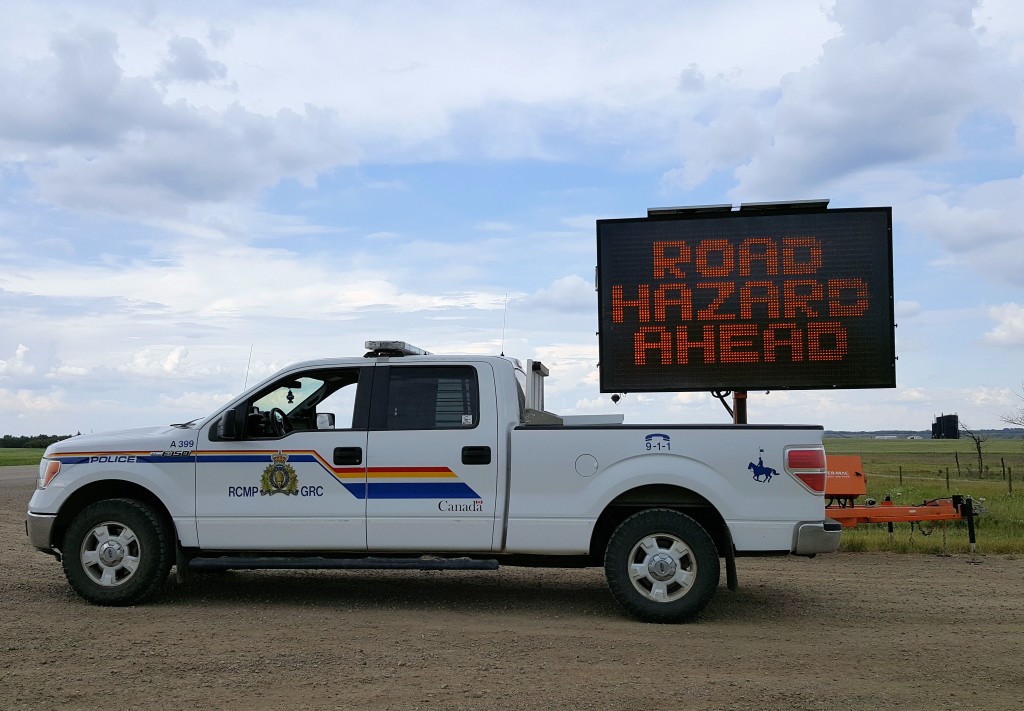 For boaters on the river: The Maidstone RCMP and Battlefords RCMP are both cautioning recreational boaters and users of the North Saskatchewan River to be mindful of the ongoing cleanup. There are several temporary operational sites being used, five of which are along the river between Maidstone and the Battlefords.
Several boats are often the water at this time from different agencies as part of the cleanup procedure. Please be respectful of those working on the river.