NOTE: Cut Knife RCMP are requesting the public's assistance in solving an oil field theft of eight Weatherford hydraulic skids that are valued at approximately $4,000. The skids were stored on a farmer's field near Baldwinton, Saskatchewan and theft occurred on or between November 2013 and April 2014. The hydraulic skids would only be useful in the oil patch and a picker truck or trailer with picker would have been utilized to move the skids. Anyone with information is asked to contact the Cut Knife RCMP detachment at 306-398-3500 or Saskatchewan CrimeStoppers at 1-800-222-8477.
UNITY SK RCMP REPORTS
RCMP received a report of an intoxicated female walking on the highway by Wilkie, Saskatchewan.
Police attended a truck fire on Highway 29 north of Wilkie. The vehicle had been reported stolen. North Battleford RCMP detachment is investigating.
There was a complaint of public mischief. This matter is still under investigation.
Members acted as mediators in an argument about material possessions between ex-spouses. This was deemed a civil matter.
Police received a report of four suspicious males attending a rural residence.
There was one false 911 call and one false alarm.
Unity/Wilkie/Macklin RCMP members, along with the North Battleford Police Dog Services, executed a Controlled Drugs and Substances Act search warrant on a residence in the Brentwood Trailer Park in Unity, the early morning hours of May 8.
As a result of this search, three Unity residents, a 41-year-old female, a 35-year-old male and a 22-year-old male, are facing various drug possession charges, including possession of methamphetamine (crystal meth), possession of cannabis marihuana and possession of cocaine. The 22-year-old is also charged with possession of a prohibited firearm. The three Unity residents were released on conditions and are to appear in provincial court in Unity June 16.
Unity RCMP detachment hosted a training exercise for members of the North/Central District RCMP Containment team in Unity May 12.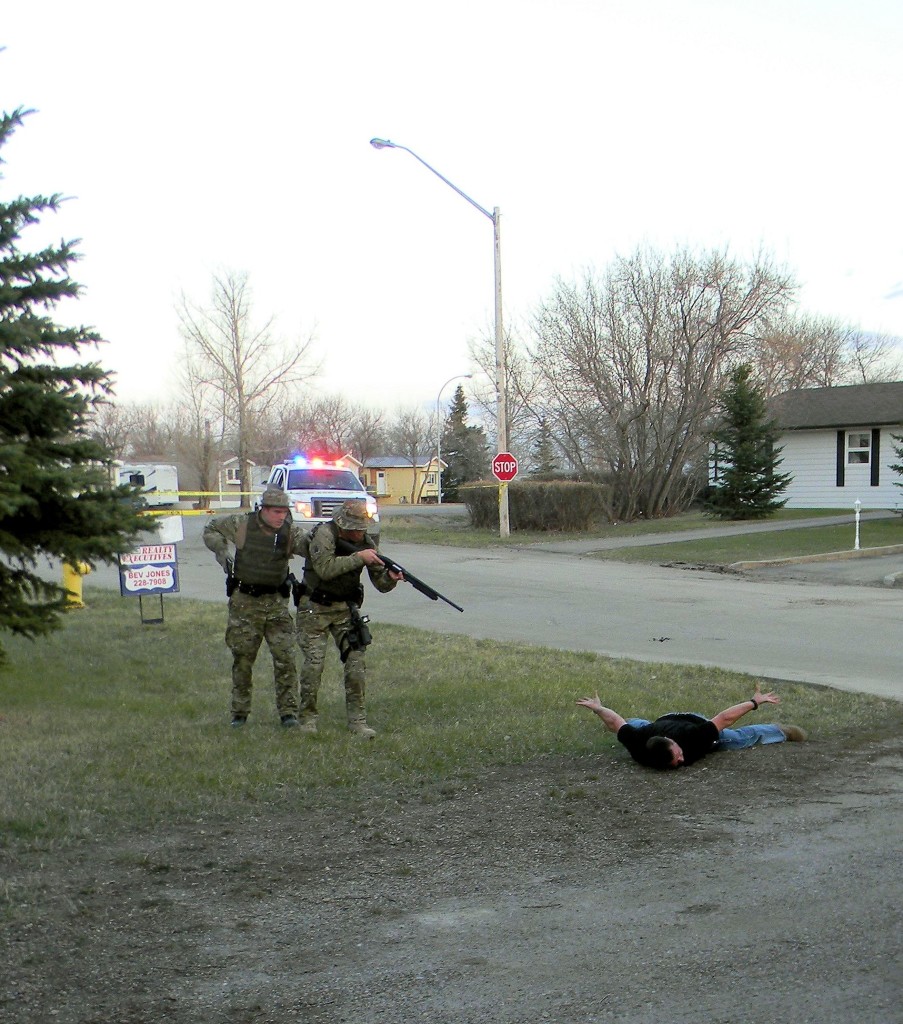 Unity was selected on this occasion as members from the local detachment are part of this team. This training scenario selected for this exercise was that of a hostage-taking. The training exercise involved the deployment and tactical operations of containment team members to result in the successful resolution of the event.
The Unity RCMP would like to apologize to any residents of the community who were alarmed by this training exercise. The purpose of the training is to ensure the policing services provided by the local RCMP detachment is maintained at the highest standard.