Starting out with the Rookie of the Year award, won by Dustin McAleer, and ending with the Playoffs' Most Valuable Player trophy going to Cory Grant, a total of 11 awards were handed out to members of the 2013-14 Unity Miners at their awards night March 28, held at the community centre hall in Unity, SK. The Rookie of the Year award was sponsored by the Jim Lee family and Gilbert Agencies sponsored the playoff MVP award.
The Miners claimed the Sask West Hockey League championship the weekend before, sweeping the Lloydminster Border Kings in three straight games.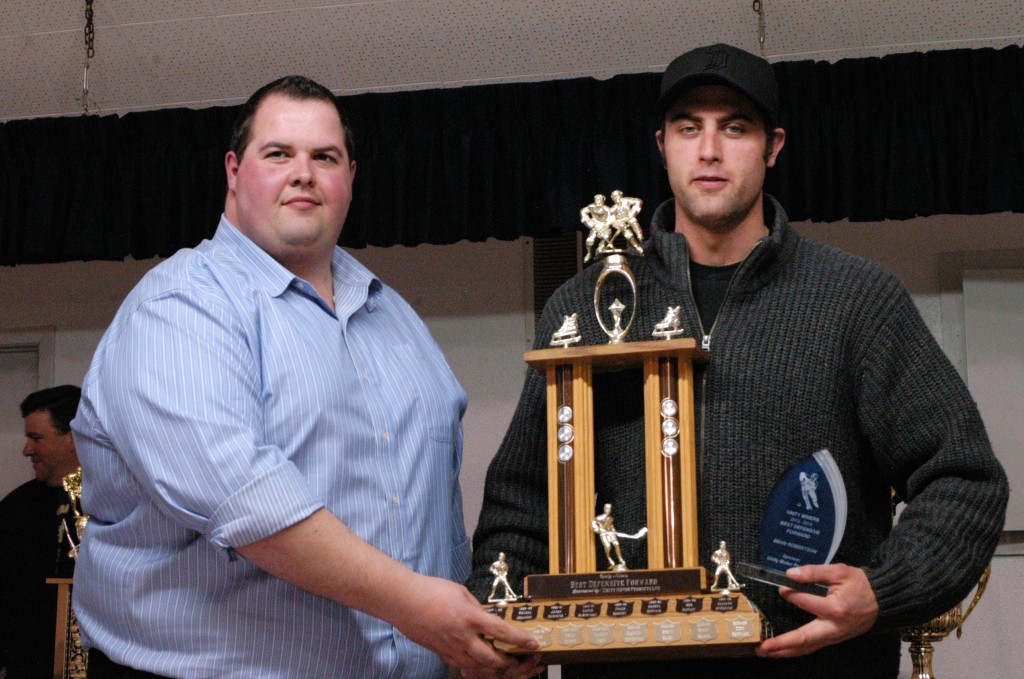 Forward Behn Robertson was the biggest winner, as the Miner's top scorer of the season, sponsored by Wildeman's Sports Excellence and as the best defensive forward, sponsored by Unity Motor Products.
Robertson was called to the stage at the Unity Community Centre a third time by MC and Miners' manager Brent Weber as a co-winner of the season MVP award, along with goalie Cory Grant. The Miller brothers sponsored that award.
Best Defenceman, sponsored by the Peter Gartner family, went to Bobby Davey, while Brett Mosher was this year's Unsung Hero, sponsored by Don Fesiuc. Dillon Belliveau was named the Most Improved Player, sponsored by Sperle's Tire and Battery. The Delta Co-op's Most Sportsmanlike Player award was won by Cody McCubbing.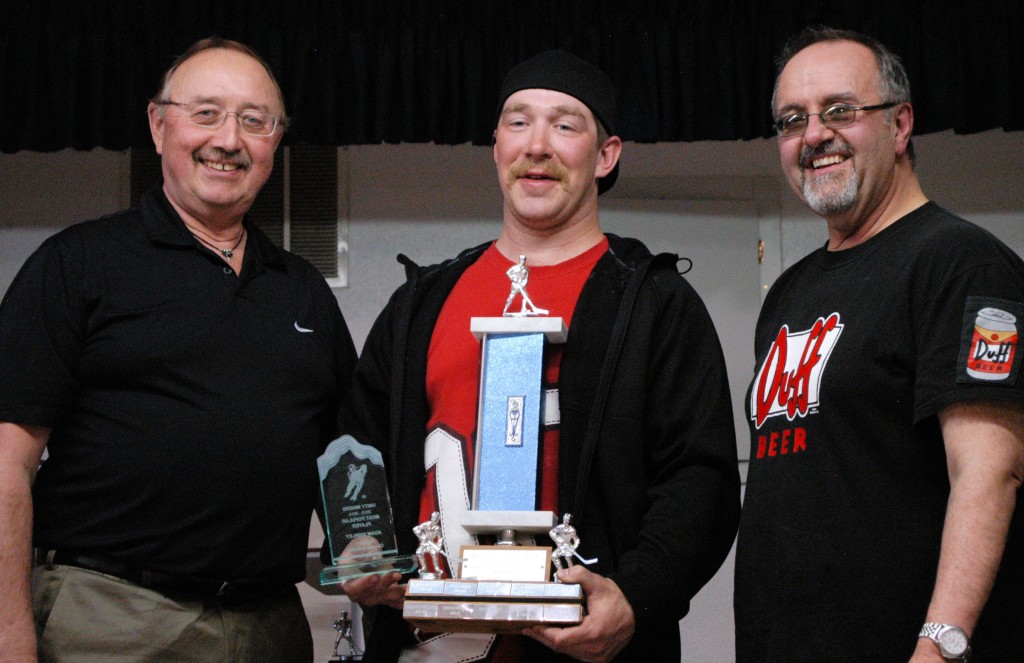 Captain Adam Shirley was chosen by the players as Most Popular; the award was sponsored by Cinema Satellite.
The coach and executive chose Michael Shirley as the recipient of the Lawrence Gordon Fesciuc Memorial Award, which goes to the player showing the most perseverance and dedication throughout the year.
With the Miners finishing the regular season in the Sask West Hockey League in fifth place with six wins and 14 losses, fans may have regarded their march to the championship victory as a bit of a Cinderella story. Manager Brent Weber, MC for the evening, said he always believed the championship was possible, even though there "were a few bumps along the way."
Co-manager Jake Senger told the players, family members and fans it takes a "true team effort to win a championship. We do have a great team and we definitely want to see you guys back next fall."
Coach Lorne Nielsen, who coached the Miners for the first time this year, said he knew the team had some top-end talent but had to ask himself whether he wanted to be dealing with some of the drinking and discipline issues which can come up in senior men's hockey. He "stuck with it" and said, "I'm glad I did."
With some injuries to key players in the playoffs, 50-year-old Nielsen and the rookies had to "fill some holes and give the front line a breather." Nielsen concluded, "It's pretty satisfying when you win something you're not supposed to."