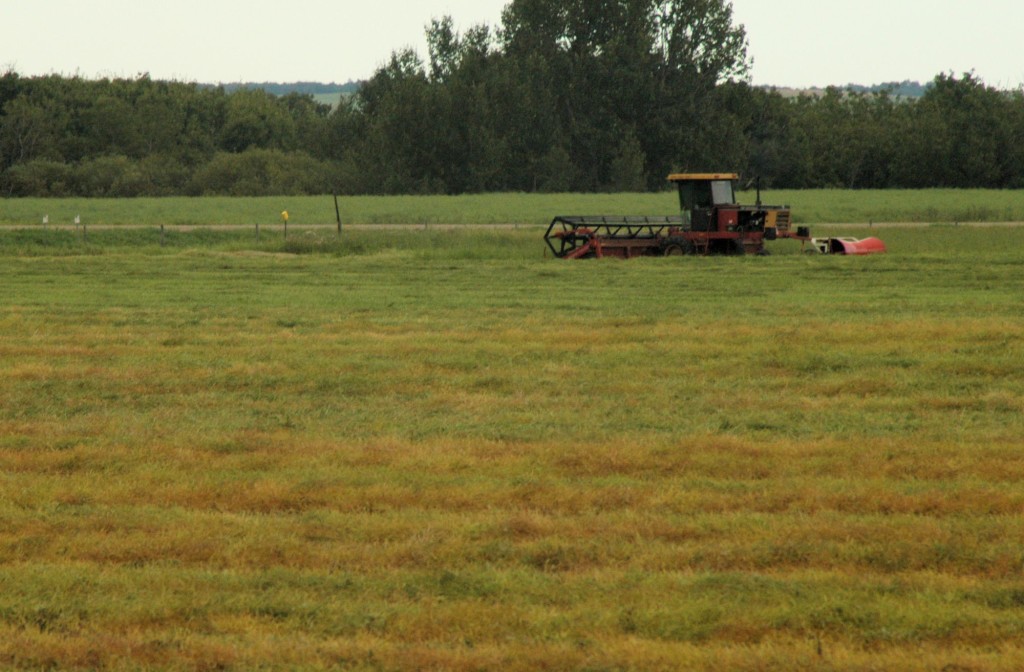 Saskatchewan Agriculture's crop report for August 13 to 19, says "warm weather with very little rain interruptions over the past week has helped speed crop development.  Harvest operations have begun in many areas of the province." The many areas include Unity as swaths were down in some of the canola fields nearby. The photo above was taken north-east of Unity, near Cloan, Aug. 20.
With reference to crop districts 6B and 7, West-Central Saskatchewan, the report reads as follows:
Warm weather has helped with crop maturity over the past several days. One per cent of peas have been combined in the region. Seven percent of canola, three per cent of mustard, 12 per cent of peas and nine per cent of lentils have been swathed or are ready to straight cut. Very little rain was recorded for the week ranging from nil to 7 mm (Perdue area). Most of the region has been missing the moisture that other areas have received over the past few weeks and soil conditions were very dry in some areas. Most crop reporters are indicating harvest operations are 10 days to two weeks behind normal compared to the last couple of years.
Topsoil moisture conditions are rated as one per cent surplus, 53 per cent adequate, 39 per cent short and seven per cent very short on cropland. Hay land and pasture topsoil moisture conditions are rated as one per cent surplus, 44 per cent adequate, 42 per cent short and 13 per cent very short. All crop districts in the region are reporting at least one third of the crop and hay land is short of topsoil moisture.
Very little crop damage was reported in the region. Dry conditions and bertha armyworms are causing the majority of crop stress. Producers are busy getting ready for harvest.