You have three more days, to and including Friday, February 24, to pick you your early bird price Celebrate Unity tickets at the Unity Credit Union! You don't want to miss this year's event, a professional duelling pianos pair from Calgary, Alta.
Brian Burn and Jamie Mahn – Burn 'N' Mahn – have been together since 2013 and perform about 150 shows a year, across Canada and on cruise ships. They claim to have driven enough kilometres touring Canada to circle the globe five times!
There are many duelling piano groups out there, as the committee learned in their entertainment search. Burn 'N' Mahn are experienced, professional, talented and unique. Not only does the duo travel with two pianos, they also bring, and play, a saxophone, trumpet, flute, recorder, tin whistle, harmonica, accordion, guitar and mandolin.
Of course, you will also get to find out who this year's exemplary service award winners are. One special group being recognized this year are the hard-working people behind the scenes of the Unity Music Festival, which celebrated its 90th anniversary last year.
The annual gala, sponsored and organized by the Unity and District Chamber of Commerce and member businesses, takes place Monday, March 6 at the Unity Community Centre. The evening includes a catered supper as well as the award presentations and professional entertainment.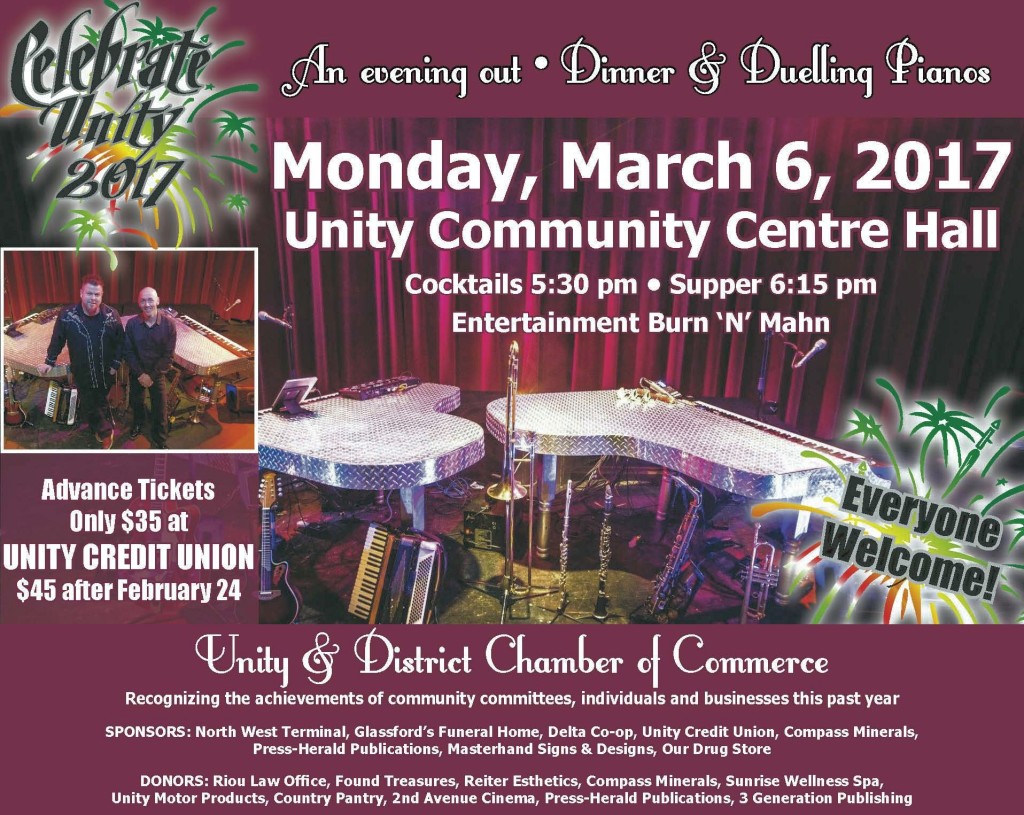 Now, here is a little more information about this year's entertainers:
Brian Burn has been playing professionally for more than 30 years. He started playing piano at age four and started playing with bands in high school. Brian has toured Canada from one end to the other many times and most of the United States. He has been nominated Canadian Country Music keyboard player of the year four times and has won the backup band of the year award twice. Brian also went to Afganistan in 2004 to play for our troops. Over the years Brian has played with many different artists as well as having his own band.
Jamie Mahn made his debut performance at the age of four singing at an Oktoberfest celebration. His first impromptu piano show took place at age 12 at the Holiday Inn, Niagara, N.Y., where he entertained snowbound guests by playing their many requests. Jamie spent his teenage years playing guitar, keyboard, trumpet, bass and sax, gaining experience with his father's rock and roll band performing at weddings, charity functions and dances. At 21, he joined Carnival Cruise Lines and performed in the piano bars of 10 different ships for three years. Jamie followed that by spending three years in duelling piano bars in the U.S. He has lived and performed in Holland and Singapore.